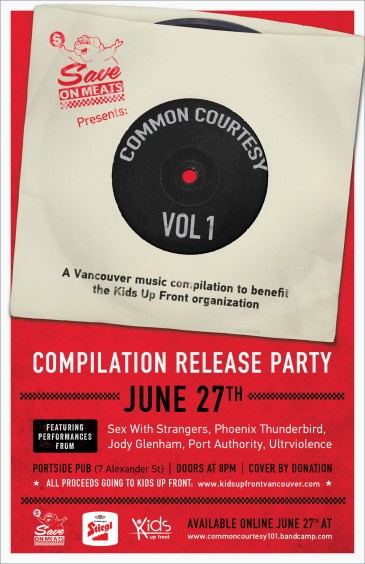 Hey, Vancouver! Have we news for you. It's a brand new album called Common Courtesy, Volume One, the offspring of the eponymous Save-On Meats weekly DJ night that features local up-and-coming bands spinning their own vinyl collection. And it's getting a big huge launch party on Thursday, June 27, at the Portside Pub in Gastown.
From the event: "Common Courtesy Volume One is the conception of the night's organizers, Jason Corbett and Adam Fink; it's a Vancouver-tinged compilation featuring the many bands who continue to put the city on the map. Through the first installation of the Common Courtesy series, Corbett and Fink aim to raise money and awareness for the Kids Up Front Foundation."
Indeed! It's a big fun release party for a big fun album. Locals like Phoenix Thunderbird and Sex With Strangers play live, with DJ sets by Discorder faves Dirty Spells, Gang Signs, and ACTORS. If that's not enough, admission is by donation, with all proceeds going to Kids Up Front Foundation.
All the details of the event, the compilation, and Common Courtesy are right here. The compilation will be available on June 27 by donation on Bandcamp.
See you there!