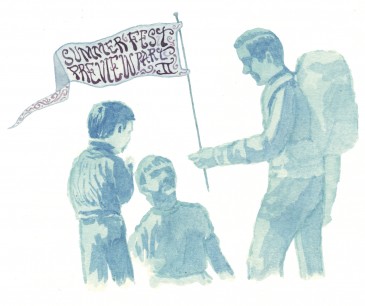 VANCOUVER FOLK MUSIC FESTIVAL
July 13th to 15th
WHO:  Dan Mangan, Geoff Berner and more.
BRING: Marijuana and the whole family!
FUN FACT: Though officially curtailed to prevent folk-related injuries, the B-500 (Birkenstock 500) used to kick off the Saturday of the fest in its early days. Eager folkies raced to get a good spot to lay their blanket for the evening concert, but now the official policy is (speed) walk—don't run.
35 years went by fast didn't it? Oh wait, were you not born when this festival started? Well, the Folk Fest can be young at heart and cool. So give it a chance.
The Folk Festival in recent years has been trying to rebrand itself as something a little younger and edgier with varying degrees of success. This year is bigger and arguably hipper (not hippier) than ever with Dan Mangan, The Barr Brothers and K'Naan. It has also become more international over the years, but the Vancouver contingent is still there. Klezmer punk Geoff Berner performs along with the super-young and charming Good for Grapes.
It's not cheap ($80 a day, $150 for the weekend), but it is fun as heck. Every stage has something different and it is totally appropriate to wander, stop for a bit, dance like a loon and then move on. People often lay their blankets in front of the stage so elaborately that it seems like they plan on starting a new life right there on the beach. And some probably would if they didn't get kicked out at the end of each day. The Folk Fest has a huge nostalgia factor and some of the performers have played almost every year. There is a strange camaraderie at the event and if you have the cash, it is definitely worth seeing first hand.
—Ariel Fournier

ARTSWELLS MUSIC & ARTS FESTIVAL
August 3rd to 6th in Wells and Barkerville, BC
WHO:  Jasper Sloan Yip, Bidiniband, Rae Spoon, Fish & Bird, and a burlap-sack-full more.
BRING: Nine hours of road trip games and a sturdy lawn blanket.
FUN FACT: Barkerville, population 5000, was once the largest city north of San Francisco and west of Chicago.
Get out of town this BC Day long weekend. Skip the ferry-line chaos and peak season Provincial campground insanity. Pack up the car with your buds and your camping gear and hit Highway 97 to Barkerville and Wells (neighbouring towns, about two kilometres apart) for ArtsWells. Think all-encompassing weekend-long camping/music experience without the hipster headdresses and glowstick-weilding twenty-somethings.
ArtsWells includes over 100 music performances from folk, jazz, hip-hop, country, and roots genres on nine stages. There are workshops, film screenings, art exhibits, and even a play festival. An all-in weekend pass is $110, and the camping is only twenty bucks for the whole weekend.
Try something new this August long weekend. Bring out your inner eclectic, soak in some BC history, bond with your friends, and do it to a fantastically colourful soundtrack at ArtsWells.
—Laurel Borrowman
NEW FORMS FESTIVAL
September 13th to 16th
WHO:  Dan Bell, Von Bingen, Lief Hall and more.
BRING: An open mind and a book (for a little perspective on the bus ride home).
FUN FACT: Last year's New Forms Festival happened exclusively at the Waldorf Hotel.
There is nothing timeless about Vancouver's New Forms Festival (NFF). At NFF the year is 2012 and the culture is digital. Challenging your standard festival format, NFF is a traditionally eclectic celebration of electronic music and art. Running September 13 through 16 at the Waldorf Hotel, New Brighton Park and the Masters of Digital Media Building at the Centre for Digital Media, NFF highlights the talents of both local and out of town artists and musicians.
At NFF you can expect to have the progress of everyday life thrown back in your face as the modern world of entertainment and social media is creatively challenged. With both workshops and performances, NFF aims to promote the use of multi-media as a modern tool in both expanding and expressing art. Part of a broader, international movement, NFF will venture into its twelfth year focusing on "living labs." A dark and electronic affair, those not too drunk at NFF will find themselves increasingly conscious of their home in technology.
This year the line up of musicians includes Actress, Dan Bell, Veronica Vasicka, Von Bingen, Kode9, Pilooski, Sinjin, Hawke, Larry James and Cloudface, with accompanying AV and exhibition artists Lief Hall, Nicolas Sassoon, Sean Arden, Patrick Cruz and Tyler Fedchuck, Rafael Puyana, and Merlyn Chipman. So leave your nostalgia behind and prepare to knock the mundane out of this science fiction world we live in. Tweet it, post it, text it. NFF is back.
—Alex de Boer