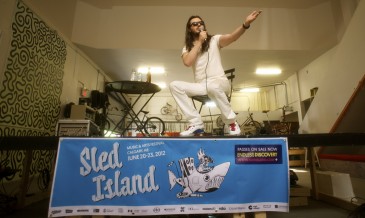 While a bloody nosed, greasy haired, thirty-something emulating the attitude of a teenager may not be the most obvious candidate for giving life advice, professional partier and guest curator at Sled Island 2012, Andrew WK was certainly the most appropriate person to kick off and forecast the four day musical smorgasbord.
"You know you're at a good festival when it's impossible to see everything that you want to see."
His tips on partying hard and living harder proved good advice to heed on day one of Calgary's four-day festival, boasting over 200 artists in over 30 venues strategically placed around the city.
Most of the events are concentrated in the downtown core, but the quick jaunt to the city's outskirts for WK's "lecture" pulverized any pessimism attendees may have had.
It was impossible to see all the action. Highlights included Montreal electro-minimalist act CFCF (Michael Silver) at the Theatre Junction Grand, with both the intimate audience and Silver so engulfed in the keyboard-driven compositions that the only interruption in the melodical one-hour set was a quiet, "Sorry," when his laptop stalled. Toronto's Timbre Timber followed, the folk rock trio's warm pedal-laden tones and quiet loudness bathing the theatre in thick, soft strings and pulsing kick drum. The Grand was an acoustic womb.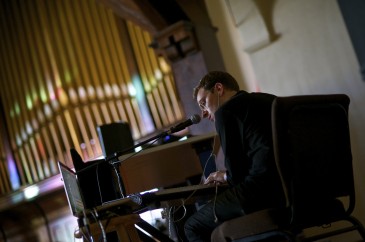 Shifting from the mellow sit-down to rhythmic, emo new-wave, the CiTR/Discorder showcase at Broken City served up a quadruple bill including Vancouver's gypsy psychers Basketball, and drone electro-rockers Trust. While up the street at Republik, Brooklyn art-rock trio and Sled Island headliners the Antlers graced a sold-out house with material mostly from 2010's Burst Apart. __ falsetto layered over sustained high-pitched guitar and eerie keyboard loops that entranced the mixed crowd, composed of a combination of die-hard fans, and unknowing locals who were fortunate to have randomly visited on this atypically vibrant night.
Perhaps the most appropriate nightcap was the final show at the #1 Legion. While surf-rock is pinned on Calgary's Shadowy Men from a Shadowy Planet, the three made it clear over the course of their 60-plus minutes on the stage that they're masters of plucky rockabilly and sci-fi-psych all the same, and united what looked like at least three generations of fans under one humid roof.
Whoever was left standing by 2:30 a.m. was right to wonder whether or not the four days of Sledding ahead could get much better; with day two underway, parlaying the WK-isms forward, there's only one way to find out.