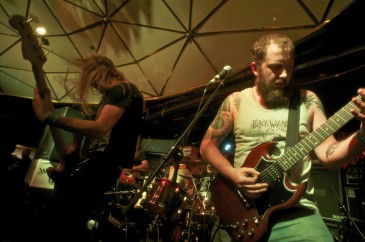 A few things are starting to become clear: the music that truly reverberates within Calgary, at least on a Friday night at a major music festival, seems to relate in some way to a balls-out rock sound – whether it's a loose family relationship through sub-genres and a barroom drawl, or a denim and leather back patched explosion of sound. My second day at Sled Island was the festival's third, and by now it was running at full-steam, with legendary underground acts sharing stages throughout the city with some of the most buzzed about and creative bands of the week.
I started off strong with a set by the Urinals. The Urinals are that band that influenced the bands you love. Assuming you love spunky, well-written punk music. The crowd watching them do their business in the basement of the Palomino was testament to this, and was mostly composed of other bands playing the festival, hanging off of every note and cheering emphatically. It was an awesome display of simple and effective songwriting, paired with cool-headed experience.
I ate a really good Vietnamese sub on 17th Ave while watching Nate Young from the street outside of Local 510. It seemed peculiar for an ambient-noise musician to warrant a busy crowd at a posh bar, but Young's influence as an experimenter and a member of Wolf Eyes meant that everyone there was fully engaged.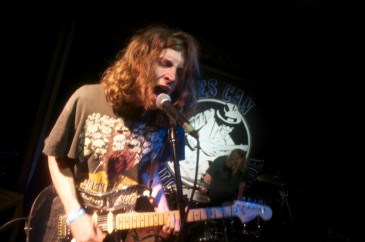 At Twisted Element, a male strip club turned festival venue, the Allovers laid down a heavy and awesome set that seemed deeply in dept to Dinosaur Jr., with just the right amount of that expansive, powerful sound paired with deep and entrancing harmonies, that offset their colossal presence. Vancouver's girl-girl duo Victories' set landed the crowd right in the middle of a hurricane of candy pop, dance rock and do-wop that directly contrasted their Nanaimo counterparts, Bash Brothers' raw and loose punk. But both groups glued their sounds together seamlessly with their irresistible charisma, and Victories' little bit of vaudeville somehow perfectly complemented their occasionally heavy handed blues swing. HighKicks followed with a sassy set, part fuzz-bass riffing around heavy hooks, and part stoking their friendly but mouthy rivalry with the two British Columbian female duos that preceded them. Andrew W.K. played a DJ set for a little bit.
Lethbridge's the Ketamines took advantage of the hometown Alberta crowd, as the kids on the floor threw themselves together with abandon at the front of the crowd, amping up the energy of the drunken revelry occurring on stage. A mosh pit was attempted, but disbanded, likely due to the overarching good nature of the whole affair. Guitarist Paul Lawton's high energy made his songs about alien abduction pregnancies completely believable.
Whether or not it's just the Sled Island vibe, people in Calgary seem to genuinely support bands and, more generally, music in the city. It's a great environment to be in.