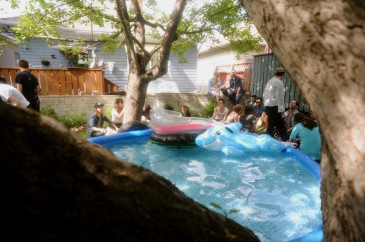 My first day in town was chaos in motion. Having landed in the early afternoon, as soon as I hit the ground I was on my way to my first show of the day. It's impressive that I made it to 3 a.m., right? Although the 6 a.m. wake up call from my still-partying hotel roommates probably means that I'll have to buck up for the next two nights.
Calgary's core is predictably laid out and hosts a healthy glut of excellent music venues. It's a quality that was easy to bask in, but left me with a sense of lingering jealousy at the city's fully immersed music scene. A phone charger and cheap Alberta beer have become my most valued assets.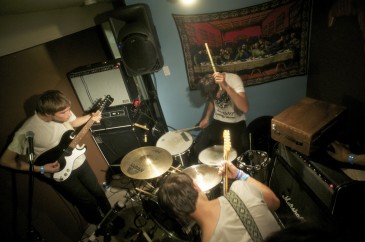 Amassing a small crew of Vancouverites, a late-afternoon house/pool party in Southwest Calgary was our first stop, where there were as many west-coasters as otherwise. An incredible basement set by Montreal's young-faced Each Other showcased some of the talent that I had hoped to experience at the festival. The trio danced through subtly clever chord changes and odd-meter melodies, as if the notes were floating by in a haze. Not a bad start to the day. Party team Too High Crew closed the afternoon with a bombast that could only be dialed down by the Fuzz, which was probably good, before the kiddie pool became any more peed-in.
A quick visit to the iconic and unequaled local fast food spot, Tubby Dog, where the basic dog is a fork 'n knifer and anything else is a triple bypass, a baloon-headed DJ stood at the back yelling over late-90s party jams. The real festival was about to begin for me.

Commonwealth Bar & Stage was like an artist's depiction of a Guitar Hero rock club: a visceral, vibe-rich room that was the perfect setting to experience the sheer epic force of Tokyo's Boris. The four-piece opened with a 20-minute ambient guitar intro that cascaded with movements, before slipping into a carefully controlled eruption of sound. Simple yet rich, Boris was perplexing to me in the best possible way. It was obvious that I was not going to fully understand the sheer sonic expansiveness of the band in this one sitting.
Although they seemed to stumble into it at the Distillery, Keep Tidy's forcefulness quickly picked up, and their momentum careened forward into a characteristically snappy and powerful set. Considering that band members variously appeared at the door moments after I did (I was pretty late), or were ripped on Four Loko, it was also pretty fucking punk.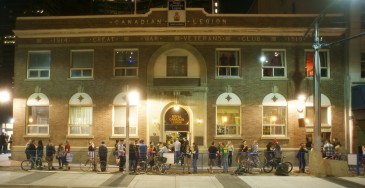 One aspect that I've come to appreciate of the Calgary music scene is its deeply rooted nostalgia for the romance of the prairies. Musically, this is revealed in earthy sounds best heard in honest and simple songwriting, more expressive than technical. Tinges of country and folk can be heard almost everywhere, and most Sled Island shows seem to represent this face of the city with eloquently curated venues. That being said, local group Night Committee's set at Dicken's Pub was like a forced and placid revolt. And who's interested in that?
The real benefit of getting into Dicken's early however, was to secure a floor spot for Hot Snakes. The band had generated enough buzz throughout the day that many festival-goers came early just to claim a coveted door stamp (left wrist only – clever). Like a roadhouse interpretation of jazz-spliced punk rock, Hot Snakes were a firepit of carefully controlled explosions. Incredibly tight, and sharing telling tales from their lengthy career of playing shows in gay bars-turned music havens, they were completely in their element. Crowd surfers and at exploding beers abounded.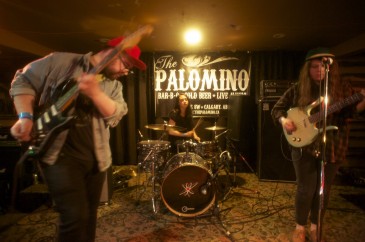 At this point in the evening I was entirely ready to be mellowed into Shabazz Palaces' polyrhythmic grooves at the jam packed Broken City. The hip-hop super group, fronted by Ishmael "Butterfly" Butler of the seminal '90s collective Digable Planets, played tracks from their acclaimed 2011 album, Black Up, an artful reinterpretation of American hip-hop infused with traditional African instrumentation. Shabazz was fully in their element, smooth and breathing with effortless style. At the flicker of the house lights, Butler was hardly content to stop, and they dove deeper with a blissful nightcap, before thanking the crowd with a devilish grin. It was a perfect vibe to end the night with.
With mostly medium-full venues, and crowds shrinking noticeably as the night crept on, the festival seems to be still settling into its rhythm. Certainly Friday and Saturday nights, with shows by festival headliners Feist, Andrew W.K., Timber Timbre and Thurston Moore, Sled Island's fever pitch is on the horizon.