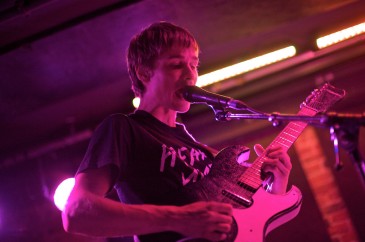 The Monday night show at the Electric Owl represented why it is important to save your pocket shrapnel and spend it on local live music instead of that neglected push coin laundry machine you have in your basement. It may be true that the Vancouver music scene consists largely of bands playing to their friends, which may be the reason that the audience, though on the designated dance area, were motionless in blasé adoration.
In any case, the crowd did not fit the aggressive thrash-psych freak-out style of opening trio Babysitter from Victoria. They played short, raw songs with bluesy guitar drenched in distortion effects, and with vocals that sounded a little like Neil Young if he sung hardcore.

Bankrobber was the show of the night and possibly my new favourite local band. Their music was unique, stacked with technical drum beats and warm thick guitar tones that rose and fell through chattering tempo changes and melodic breakdowns between verse. "The End" started with dynamic energy and built off of warm, steady waves of bass and sporadic bursts of choppy guitar leads and falsetto chorus. The band's chemistry was locked in and their performance showed that each member listens to each other to add something powerful and complement the whole. They produce a pleasingly unique yet familiar sound. Even though it was my first time listening, it felt like I had been into them long before.
Freak Heat Waves opened their set nervously with a trendy twanging guitar riff atop a deep boiling bass that opened a sparse baritone vocalization. If you are into Joy Division or New Order, you might like the three-piece Freak Heat Waves. It took a little while for the band to centre themselves, but when they did, they made some pretty bouncy jams like "Mission Bay," carried along by some pretty funky bass.
Hats off to Halifax-bred, Montreal-based trio Each Other for having one of the most intense drummers of the night. While playing heavy drum lines, he was also augmenting dual vocals with a Roland space tape echo set up beside the floor tom. This provided a disorienting Animal Collective-type dissonance. Their obscure brand of shoegaze psych-rock was best defined by their opening track "Seal," where they seamlessly jumped from tropically-toned melodic instrumentation to sensory-overload breakdowns that were kept in line by the dynamic vocals of the two guitarists. This band is without a bass player and not once did the music sound as though it were lacking something.
Closing the night, Montreal triplet Sheer Agony broke the mould by introducing some off-kilter '60s-glazed pop songs, which were slightly reminiscent of early Shins. Their music was pleasant and poppy, but with modern grungy undertones. Nearing the end of their set, Sheer Agony had shed their chill collected exterior as lead singer Jackson MacIntosh lead the band spiraling into an explosive, rugged punk rendition of "Good Cats Go To Heaven," which was dangerously and awesomely similar to the Ramones. Sheer Agony sealed the deal on the stacked bill of the Electric Owl.