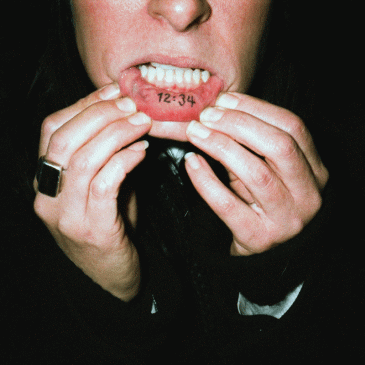 Named for a time that has become a good omen for drummer Macey Budgell, Needles//Pins' 12:34 is a hot mess of power chords, bubblegum hooks, snarled accusations and succinct, ragged glory solos.
The power punk group hits the ground running on their first long player of mass destruction, with this summer's pro-apathy anthem, "I Don't Mind."  Within just under a minute and a half, the trio builds excitement with palm muted power chords and propulsive drumming that explodes into a windmill declaration of indifference.
The staccato power chords introducing "I Heart Your Drugs" may link Needles//Pins' garage rock DNA with Sweden's raunchy pop punkers, the Hives.
Throughout 12:34, Needles//Pins come off as a down and out east-side version of that band, fuelled by romantic turmoil and desperation rather than narcissism and matching suits. Even Adam Solomonian's (guitar, vocals) raspy wail is sometimes shockingly reminiscent of Howlin' Pelle Almqvist, but draped in denim and a few beers deep.

But Needles//Pins' garage pedigree dates back further than the early 2000's mini-rock 'n' roll renaissance. These songs bounce with the energy of the early punk and new wavers from CBGB's, and the snarl of the sexually frustrated backwoods garage bands in the 1960s' Pacific Northwest.
Budgell and bassist Tony Dubroy do their best to hold the songs together in a barely controlled chaos, while Solomonian's guitar and voice battle for supremacy with reckless abandon like a pop-punk Page and Plant rolled into one.
Lyrically, Solomonian's romantic pain is the listener's pleasure. Lines like "I can almost feel your pulse, with your fingers down my throat," on "Pulse," or the not-so-subtle put down, "I really want something bad to happen to you," on "Breadwinner Take All," are rallying calls to shotgun another beer.
The group fires through 12:34's 11 tracks with deadly pop-savvy precision. No song is longer than three minutes, adding up to more than another Nuggets-worshipping collection of raunchy singles. The songs have the immediacy of a "Money" Mayweather Jr. punch to the solar plexus, and linger long after it's over.
Needles//Pins may not be reinventing the wheel, but 12:34 is a badass nostalgia trip to the mid-seventies, late-sixties, or any other glory day when rock rolled.