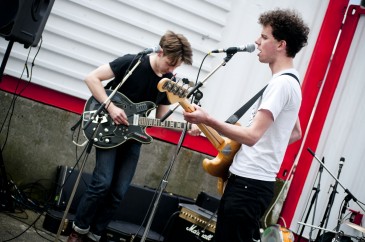 On the afternoon of Sunday, June 10, Music Waste came to a queasy close. The weather outside the Waldorf Hotel was an unsettled mix of sun and clouds; a clumsy metaphor for the collective hangover of the crowd. After many days of Vancouver's best bands jamming hard over spilled beer and packed hordes, both sides of the experience came out to take a final bow. The first band, playing to a sparse sea was Horse Girls. Loud, and singing in distinctly new wave-inspired chants, the three-man band shook everyone awake at about 2 p.m.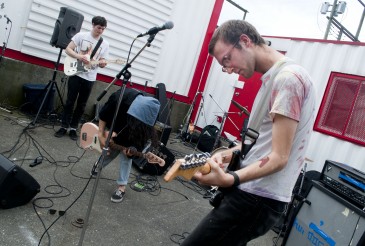 Weed continued the wake-up call and drew in a slightly larger crowd. Will Anderson, Kevin Doherty, Hugo Noriega and Bobby Siadat began a designed clamour. Guitarists facing inwards, the music was a thick and constant cloud of sound. They jammed contentedly, thanking the audience for letting them "goof around," and the feeling was mutual as they strummed in trance. Their bodies rocking back and forth, immediate slaves to their own beat; spinning well-orchestrated grunge to appreciative spectators.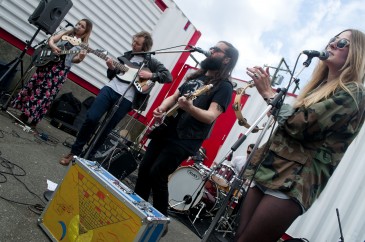 After Weed's dense sound cleared, Twin River were given a small transition space to shift the tone towards something more chill. The five person collective charmed everyone with the comforting, leather-coloured appeal of good folk, while adding the distinction of some dimmed reverb. Their songs were pleasant summer paths and their performance humble and welcoming; definitely a set to smile about.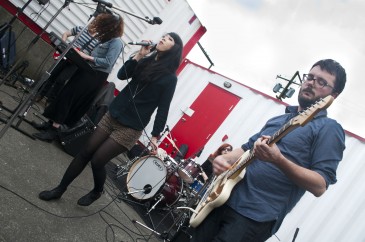 Village played fourth, with the keyboardist applying an unembellished caption to the final day of Music Waste: "I can't be any more hungover than I am now." Following this laughably bitter truth was a sweet and jingly intro. The two female singers, shaped their poppy tunes with full, synchronized voices that arched over the audience and cast blissful lo-fi ambiance; the untitled second of their two newest songs created a particularly lasting glow and was profoundly catchy. Keys empowered the chorus, the song floated down in time with unsourced bubbles. It was a wonderfully circular sound and probably the highlight of the day.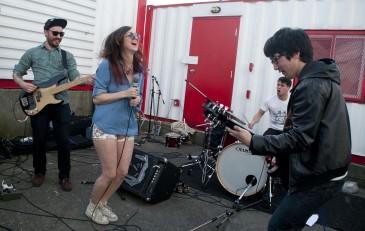 Diving into some fast paced and sunny pop, Pleasure Cruise commenced a lively set next. With a vaguely rock'n'roll boogie to their first tune, they played so enthusiastically that the drummer lost his sunglasses at one point. The band added a nice surprise to the day's musical content and their set was strong, with engaging vocals set on top charismatic rock riffs. It was an undeniably pleasant and entertaining production by a talented new group.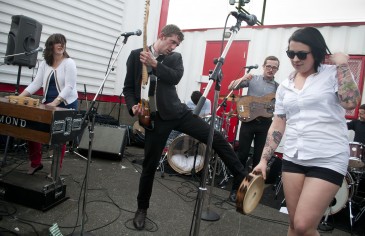 After a long set up the Ballantynes—a seven person ensemble composed of two drummers, an organist, guitarist, bassist and two lead singers armed with tambourines—took to the stage. Their set was extremely tight and the word "jazzy" snuck into my mind, though their genre would be more appropriately described as soul/rock. Demonstrating a tremendously professional group persona, the Ballantynes' were coordinated and incontestably heartfelt. Ending the day on a reverb-free note, the energetic, upbeat bunch gave a sincere goodbye that was evidently appreciated; at least as much as it could be by the survivors of Music Waste.