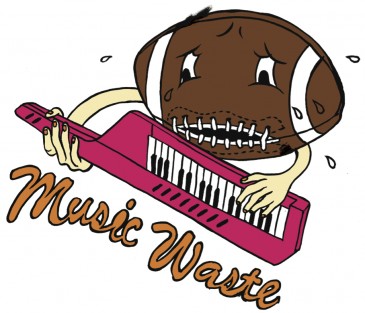 The term "music wasted" comes to mean a lot of things over the course of a four-day music festival: physically exhausted, mentally fatigued, deaf, drunk, stoned. The list goes on for a while depending on how much of Music Waste you caught, and in what capacity. While I tried to balance work, food, and sleep with all the audio candy going on, it's obvious who won in my fight against the fest.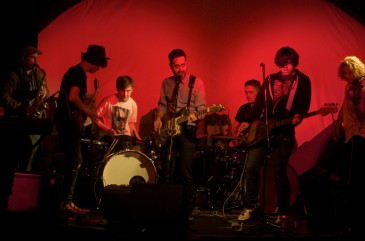 Dirty Spells officially opened the festival at the Waldorf on Thursday, where they played a manic, high-octane psychedelic-rock 'n' roll set in full party mode, even if the crowd hadn't quite caught up to speed yet. Closer "Hangover City" might have been the anthem to the entire weekend. White Poppy played an echo-drenched drone-pop set replete with "too many fuckin' pedals," according to guitarist Crystal Dorval, whose reverberated cooing and singing provided a beautiful background for ambient bass lines and six-string shimmer to bounce off of.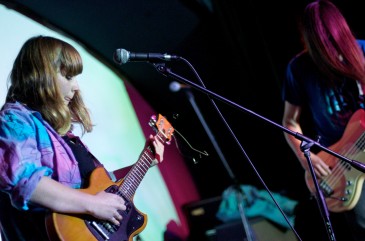 The next band to see was Peace, who played to a cramped and packed Hideaway stage in the back of the hotel. Heavy lyrics disguised in monotone singing, a whole lot of wah-wah effects and too-damn-fun bass guitar riffs might not sound like a recipe for success, but Peace are consistently one of the most entertaining live shows in town. The room emptied immediately at the end of their set to catch B-Lines, who played with intensity and insanity cranked to 11. Spazzy, shower-of-beer punk played to perfection, it's hard to give B-Lines enough credit.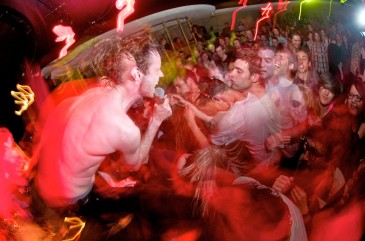 Cue Friday, where my night was all about the Rickshaw, draped in new curtains to cut the room in half and feel a little cozier. Cloudsplitter surprised me with a rich, beautiful set of country tunes and one of the best electric banjo players I've ever seen. For how collected the rest of the band was, the punk-rock bassist twitching around on-stage was a little much. Hermetic played well, regardless of looking out of place on such a large stage. Their set was well received, even if their brand of post-punk would be better suited to a more intimate environment. The Courtneys played obnoxiously loud no-fi garage with piercing high-pitched vocals and sludgey riffs: not exactly the cure for my post-Thursday hangover, so probably best enjoyed after painkillers. Apollo Ghosts played another (surprise) stellar show, encouraging the zealous fans to jump over the stage barricade and assist in the multitudes of crowd-surfing opportunities. The Ghosts' first song cured my headache immediately, and should be prescribed before painkillers anytime.
Saturday involved me, my bike, and too many venue changes. World Club started things at the Biltmore and, while their recorded material is pretty enjoyable, the live act was a farce, playing what felt like four separate solo shows at the same time. At the height of their professionalism, the group refused to resume a song until they got more drums in the monitors. "We just… won't play until it's there" one of them barked at the sound guy. I wouldn't have minded. Eeek! restored my faith with a great, hoarse set of shouting, catchy punk guitar chords and nostalgia for '90s trucker hats. Eeek! might be repulsive if their brand of thrash-punk wasn't so genuine and friendly, but thankfully all the vibes the four-piece sent into the crowd were sincerely happy.
From the Biltmore, I bopped down to Shudder Gallery to catch L.A. Lights and another dose of Dorval. The former played soothing, sit-down ambient electronica inspired by a recent snorkeling experience: think the crash of surf on sandy beaches and submersible synthesizer pings, the duo played perfect aquarium audio. Dorval, this time playing solo, traded her drum machine and bassist for a tape deck and the sound of more waves lapping against some unknown oasis, which provided the perfect white noise for her less rhythmically-bound experimental set. Without a bass line or drum click to guide her, Dorval explored lapsing time signatures and even more serene echo-unit whitewash.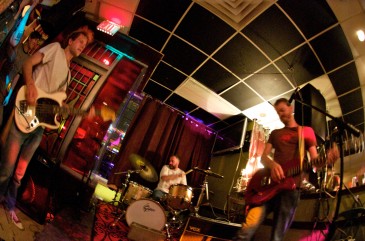 From Shudder, I found myself at Lanalou's for Sightlines. The venue itself is a shit-hole, surrounded on all sides by the sketchiest streets in East Van and "decorated" with florescent lighting and an obnoxious disco light, but that did nothing to curb the enthusiasm of the band on stage. Sightlines were ferociously fun to watch, and their streamlined 100 per cent pop-punk sound had me remembering all the bands I listened to growing up. While Chris Martell doesn't have the tattoos like Travis Barker, his drumming more than made up for it: I didn't know it was physically possible to hit drum fills that fast.
Capping the night was a few blocks down at the Astoria, where the New Values played to a varied crowd of hardcore punk-rockers and half-baked party animals alike. I hadn't seen the band play since last year, so to watch them play such a tight set (no small feat—they cram five minutes of guitar screaming and machine-gun drumming into 45 seconds of pure speed art-punk) was a real treat. No song clocked in over two minutes, and considering how blisteringly fast each jam came and went, it's a miracle nobody died or lost a finger in the frenzy. There was a literal pool of sweat on the dance floor by the end of the night, and I took that as a cue to run home and recover.