Local's Student Teacher and Brooklyn's Crystal Stilts played an early show at the Electric Owl, treating the modest yet eager audience to a fill of gritty, evocative noise-rock. Student Teacher set the mood brilliantly as they huddled around the drum kit and broke into their set. The Vancouver quartet doused the audience with fuzzy guitars and layers of reverb while trading the role of lead singer. Though each member had their fair share of pitchy vocals, eyes and ears were rewarded by the skilled rhythm section where drummer Bryan Willem and bassist Liam Shiveral looked fixated and focused, keeping the intense and pulsating beat pounding throughout the venue.
As post-punkers Crystal Stilts quietly took the stage, tweaking and tuning their instruments, the crowd shuffled forward in anticipation. The band glided into the ethereal opener, "Radiant Door" before ripping into bouncier jams like the psychobilly riffed, "Sycamore Tree." As possessed as lead singer Brad Hargett' s facial expression, the audience was entranced by the band's blend of gloomy vocals with brightly distorted guitars and psychedelic keyboards.

A highlight of the show was the short breather after "Flying Into The Sun" where keyboardist Kyle Forester quickly tested out the familiar synth intro to "Shake the Shackles." Ears perked up and everyone gave an enthusiastic yelp as the band jumped into the fan favourite track. The song got the crowd energized and pockets of people danced and hopped up and down so much that Forester jokingly asked, "What other dance moves can you do other than the Watusi?"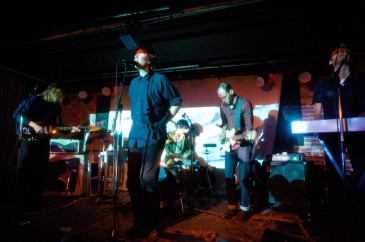 With more stage banter and subtle smiles shared between band members, Crystal Stilts have a charming stage presence that balances a dark, cool and subdued demeanor with a playful and inviting audience engagement. Capping off their set was the stimulating and hammering "Prometheus At Large," a track that certainly earns the band comparisons to the Velvet Underground.
The quintet promptly left the stage, but it was far too early for the show to be over. The crowd cheered for an encore and got back into dance mode as the band returned and played the catchy, more surf-rock single, "Love Is A Wave." Unfortunately, due to curfew, it was the only encore song, and for a tune that clocks in at barely two minutes, it felt very much like a tease leaving the audience wanting at least one more. But ultimately this means that Crystal Stilts will just have to return to Vancouver again. Soon.