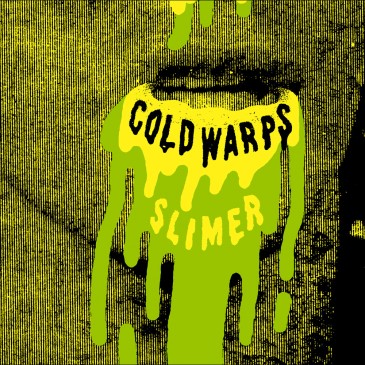 Based between Halifax and Ottawa, four-piece band Cold Warps have found a striking balance with their new seven-inch vinyl, Slimer, in a messed up time warp that has '60s surf pop overwhelmed by garage rock riffs that prove to be addictive, memorable and probably popular.
"Slimer," the first of the two songs, pays homage to the transitory period when punk rock arrived in California in the mid '70s. First enters the punk influence, the Ramones-style electric guitars with solid, simple hooks from Dominque Taylor on guitar and Ryan Allen on bass. Then the clean collar lyrics come in, clearly twisted by the sounds and sentiments of the d.i.y. ethic. This song is roughed up, and with vocalist Paul Hammond's Weezer-esque lyrics resonating sounds of the Beach Boys, it's easy to mumble your way through the indiscernible bits and catch on quickly to the chorus.

The second song, "Dream Creepin'" is right on cue with the times. The guitar sounds feel typical to the local Halifax garage scenes: gritty, simple, and hard. It's a Misfits on downers kind of sound that feels both clean and dirty, in perfect harmony. It's sound is comparable to Nirvana's "Breed," but in a clearly unique manner. Lance Purcell's drums aren't overly complicated, but they're done well and give the song a strong backbone.
Cold Warps are aware of their target audience, choosing to release their lo-fi songs on tape and vinyl, and the zine-like cover art completes the time warp of this release, referencing late '50s cinemagraphic interests in science-fiction horrors, like wads of slime and giant blobs. While Cold Warps have room to grow, this release is a great summer vinyl.