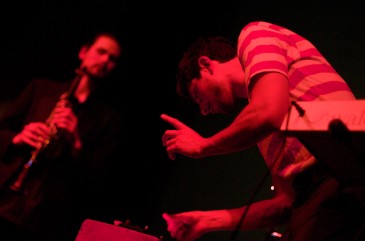 The sold out Rio Theatre was truly crawling in anticipation of the eclectic sextet Brasstronaut, with many either fruitlessly scanning the rows for empty seats or heading to the lobby for the unique combination of beer and a bag of popcorn. The venue became suddenly classy as lights focused on the prominent stage backed by operatic red curtains, and the already sizeable audience was treated to the Icelandic folk act Útidúr.
They effectively warmed and won over the crowd with their diverse medley of tunes and innocent, heavily-accented charm. They seemed sincerely grateful to be playing in front of so many faces and for being a part of the twenty-show Canadian tour. Their youthful energy and gaiety was evident in the performance, with songs that seemed fit for a night of drunken revelry, singing and dancing at some portside pub in a remote European village.

The dynamic band's styles ranged from ballads led by the female singer's soft vocals, to upbeat folk dance numbers, to a closing song which combined aspects of hard rock and even involved a strange rap at its conclusion. Various funny moments such as getting the crowd to pose as if rising for a standing ovation, or bowing in reverence to the guitarist during a solo, made it difficult to resist Útidúr's good vibes. And yes, their drummer would eventually show up during Brasstronaut's set completely nude, grasping a strategically placed banana.
The six members of Brasstronaut (Edo Van Breemen, Sam Davidson, Tariq Hussain, Brennan Saul, Johnny Wah and Bryan Davies) were greeted warmly with a large group crowding the stage. After a slow start, trying to fix tuning issues, they soon kicked into full gear and took the audience along on the journey of their latest release, Mean Sun. Aided by their experiment with background visuals orchestrated by visual artist Michael Markowsky (also touring with the band), it was effortless to allow the combination of flute, trumpet, keyboards, slide guitar, and the standard rhythm section to take over.
Staying for the encore was certainly worthwhile as well, as they joined forces with Útidúr for an extended dance set, displaying their joyful camaraderie, and followed that with "Old World Lies," a quiet lullaby to conclude the evening, as Davidson wandered around the theatre exemplifying the dreamy atmosphere with his smooth clarinet.
Following the final song, both bands took the stage for a bow, but rather than appearing pompous, this theatrical flourish seemed to be the perfect fit. The two groups made for an entertaining night and seem to promise a great tour.