With a surprisingly full turnout for a Sunday night, the Electric Owl hosted a fitting end to what must have been a long and eclectic North American tour for the tropical rave-pop trifecta of Beat Connection, White Arrows and our own Teen Daze.
Walking in halfway into one of Teen Daze's last tracks was a bit disappointing, as the Fraser Valley native was playing to a ring of indifferent looking bodies circling an empty floor. With his light head-bobbing accompanying his tinkering on his MPD, he was well in control of patching together warm layers of sound that dwelled in the major chords. All this came tightly packaged in a 4/4 disco beat framework that could have mobilized a dance floor in a different place and time, but clearly not this one.
Having heard nothing beforehand about the following act, White Arrows, I was delightfully surprised. With two guitarists, a bassist, drummer and the token keyboard-laptop-guy, my first impression was that this was a garage-rock act with a twist. Blending synthesizer riffs, jangly surf guitar and rockabilly-meets-rave rhythms, the L.A. five-piece sounded just as upbeat and colourful as a Gold Coast act could be. In terms of novelties, if their colourful floodlights weren't enough to sell me, the sampled steel drums were. Cutting through layers of reverb-drenched backing vocals was Mickey Church's sharp voice, drifting between catchy hooks on songs like "Fireworks of the Sea" and adding yet another layer of the psychedelic feel-good flurry on others.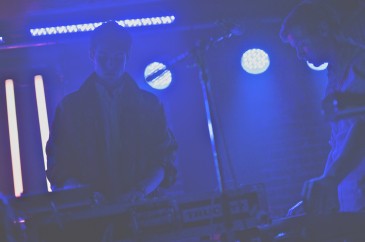 Next, Beat Connection's entrance was met with an instant surge in dancing. What started as a duo of Seattle college friends Jordan Koplowitz and Reed Juenger has morphed into a four-piece establishment since releasing their 2011 debut EP Surf Noir, last summer. The release of their new full length, The Palace Garden this May coincides with the addition of vocalist Tom Eddy and drummer Jarred Katz, rounding out the band's electronic core of samplers, synths and keyboards. Starting with "Further Out", one of their sunnier cuts from their new album, the band wasted no time to throw a full-on dance party, while simultaneously tickling my steel drum obsession. With tracks that build on melodic fragments and riffs more than washes of ambient sound, the result is a pop-friendly and infectiously mobilizing affair. Meanwhile, Eddy proved to fit well in the new lineup, especially on the new album's title track "The Palace Garden, 4am." Among the highlights were flashbacks from last summer's "In the Water" and "Silver Screen," which they drew out, allowing ample space for the grooves to build as the individual elements of the tracks pieced together.
Beat Connection proved they can definitely bring a party, but just six or seven songs in, the Electric Owl's licensing issues proved they aren't immune to their party being killed. With a ludicrously early midnight curfew, the show was put to an abrupt end, but not before inviting members of White Arrows and Teen Daze back on stage for a gloriously sloppy rendition of the Talking Heads' "This Must Be The Place (Naïve Melody)." With the White Arrows' flashing tambourinist pulling all the front-row girls onto the stage, things got suitably messy for a summer night like this one.