White Poppy was the originally scheduled opener for TOPS on November 21 at the Biltmore Cabaret, but due to a last-minute cancellation, we were treated to an opener double feature: Lief Hall and Francesca Belcourt. Lief Hall had joined the lineup weeks before, but Francesca Belcourt was a last minute surprise.
Lief Hall performed first, before the horde arrived. I had the pleasure of talking to a friend of hers in the audience, who informed me that Hall is an accomplished visual artist. Native to Nelson, B.C., she currently resides in Berlin. Hall used to be one half of MYTHS, who toured with Grimes in 2012.
In fact, Hall's vocals sound like a toned-down version of Grimes'. Her tracks were smooth and effortless, and she commanded the stage with the confidence of a veteran performer. Hall's sound would perhaps be best appreciated while lying down and staring at the ceiling, but the Biltmore's upright audience didn't mind.
Next up was Francesca Belcourt, whose specialty was also highly atmospheric, experimental music. She utilized a ton of vocal distortion, although at one point it seemed that this was the result of a technical difficulty. After that brief hiccup, Belcourt was able to showcase her impressive vocal talent to the crowd, already dense in anticipation of TOPS.
Belcourt looked like a young Drew Barrymore. Like Hall, she stood alone at center stage. And, like Hall, she was not intimidated. It was so lovely to see these talented women on stage, and such a strong female presence was a fitting prelude to TOPS.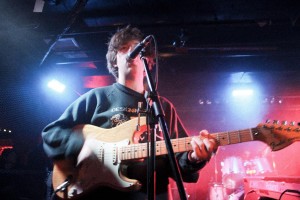 When I saw TOPS earlier this year at the Biltmore, they were already coming into their own. Thanks to a rigorous tour schedule, the Montreal group has only become more comfortable on stage. They clearly have a dedicated fanbase in Vancouver, because the venue was completely packed. I saw familiar faces in every direction. But, as expected, all eyes were on lead vocalist, Jane Penny.
Penny had a uniquely enchanting presence on stage. Her vocals carried us through the set, making new songs seem as familiar as those we already knew. TOPS have released two standalone singles in 2015, "Anything" and "The Hollow Sound of the Morning Chimes," and we were fortunate enough to hear them both live. They are still touring on their 2014 release, Picture You Staring, but a third album is clearly in the works.
The crowd approached fanaticism during TOPS' closer, "Way to be Loved," but the show suffered from some loud talkers during the quieter songs. What's more unfortunate is that these softer melodies are some of TOPS' best work. Still, they came back for an encore, covering The Pretenders' "Don't Get Me Wrong." TOPS could not have channeled a better musical ancestor, as both bands construct a comfortable melancholy while lulling their fans into absolute infatuation.