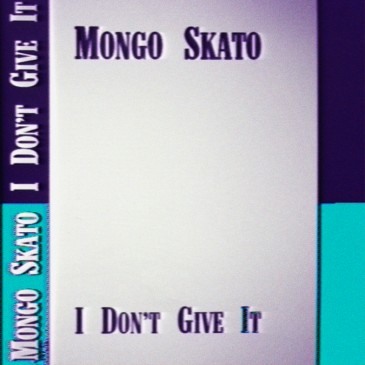 Filled with plunky instrument samples, euphoric synth lines, and snappy percussion, I Don't Give It immerses, delights, and titillates listeners like a high-powered jacuzzi filled with orange soda. It is tumultuous and chaotic, pleasant, and cyclical.
Outdoing the album's warmth is its stylistic variability. Songs change from soulful, funky, and intimate into whimsical and detached with just slight changes to the mix. Within the first few measures the album shows off this shifting, transient nature. (A good example of this is opening track, "Fela.")
I Don't Give It is always busy but never overcrowded. Mongo Skato thrives by adding layers of skittering percussion and meandering synths, but does so without making the mix sound muddled or irritating. The album is packed with action and detail. Even the slowest tracks command the attention of listeners. Rich percussive variety and vibrant, sharp synth lines can innervate even the most listless of listeners. Energetic and playful, I Don't Give It has an ever-altering tempo and intensity which makes it at once relaxing and animated.
In true 1080p fashion, Mango Skato rocks the tape compression. Dense, spastic, and crisp drum lines resolve into pulsing, four-on-the-floor kicks. The bouncy and energetic percussion present on tracks like "Flythrua" and "A Mouth Erect Backing Track" are reminiscent of producers like Mouse On Mars and Urban Tribe. I Don't Give It is full of endorphin-steeped synth patches and samples akin to the work of artists like The Field and Stereolab. Mongo Skato hybridizes relentlessly between different dance genres without diluting the qualities of any one of them.