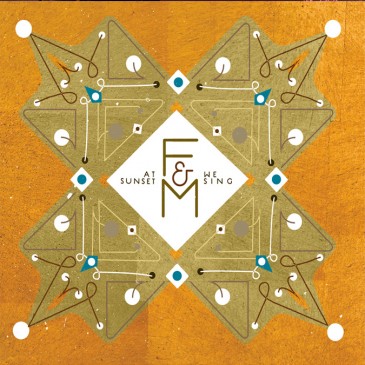 Remaining firmly Canadian, while borrowing from Fado, a form of music harking from Portugal that pays homage to tales of the sea and the life of the poor, Vancouver band F&M release their newest album, At Sunset We Sing. The album's sleeve notes offer insight into this influence: "Born from broken bones and promises, this record grew from a conscious decision to move our hearts and sorrows to Portugal."
Comprised of bandmates Rebecca Anderson, Ryan Anderson, and Bryan Reichert, At Sunset We Sing starts out subtly, with just a guitar and vocals. Simple but profoundly beautiful musicianship has long been a hallmark of F&M and opening track, "Hands In" continues that tradition. Ryan sings "I'm down / I'm down / I'm down for anything you have planned." When he exhales at the one minute mark it sounds like a choking effort not to cry and the cascading piano adds clarity to the pain at the song's core.
It is Ryan that we first hear on second track, "And We Will Mend Our Broken Hearts," before Rebecca's stunning vox emerges. The track introduces her to the listener and from here she moves into the haunting reworking of the late Russian Viktor Tsoi's song "Kukushka." F&M's version is engrossing and commands a stillness from listeners — a glimpse of what is to come on "I Have Never Seen Such Darkness."
The aural impact of At Sunset We Sing is reminiscent of The Beach Boys at their best; but like the surfin' Californians' Wild Honey, you can't help but wonder if At Sunset We Sing captured all F&M was capable of.