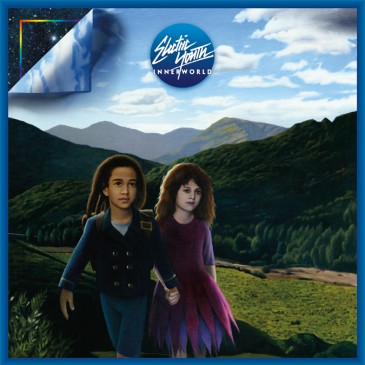 A whole new breed of sound is generated on Innerworld, the debut album from Toronto band Electric Youth. An album synthesized unlike any other, Innerworld is caught in liminality between the present and the future. Electric Youth, comprised of long-time duo Austin Garrick and Bronwyn Griffin, have written a perfectly orchestrated concoction of electro-pop songs that embody the free-spirited and youth-driven culture of today.
Fluidity and transience drive the album to its wondrous, dream-like state. Innerworld flows at a pace that is similar to waves crashing onto a beach— constant, yet jagged. Consistency is a key element of Innerworld, a collection of songs which never peaks, but instead stays true to a singular creative tone.
Innerworld's stylization is precise. Every note serves a distinct purpose in creating an overall sound that works together to fulfill an artistic vision. Motion through time and space are painted with the synthesized and futuristic musicality of Electric Youth's production style.
Innerworld explores the disoriented and pleasure-driven culture of today's youth. The pains of being carefree are conveyed through Electric Youth's understated and poetic lyricism. "Runaway," the first single off of the album, exemplifies a longing to attain true freedom within the constraints of modern society. With lyrics like, "Maybe we could just run away for good / Cause we're both misunderstood," "Runaway" conceptualizes the wanderlust desires of the youthful mind. "Tomorrow," the eighth track on the album, illustrates spontaneity and vivaciousness with its transparent verses and clean-cut sound. Its harmonies are perfectly textured, leaving the song's memory to linger.
While we remain entrenched in the everyday workings of the world around us, there lurks a desire to explore the unknown. The liberating sensation of delving into a world beyond the familiar can be found through music, and Innerworld certainly takes you to a place you never knew existed.