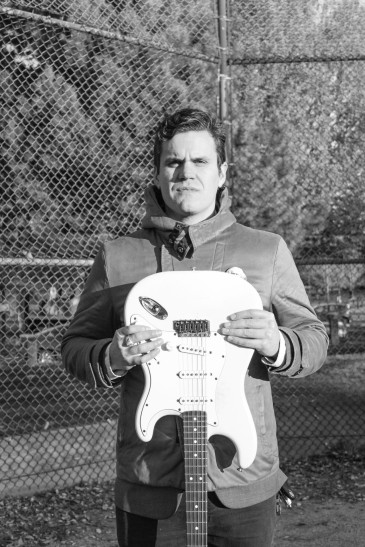 "I've got a trunk full of puzzles."
No, that's not a freaky sex jam from East Van rockers Candela Farm's new EP, DADF#AD. It's just fact of life for the group's frontman Andrew Candela, who's also a father of a rambunctious three year old.
"He can be pretty  aggressive and has very few inhibitions. He loves puzzles and is very social, but has been known to hit other children.
"Toddlers are kind of little cavemen," he adds.
And while life's not all caveman wrangling and mind games for Candela, the former singer/guitarist for pop-punkers Plus Perfect says that having a kid has definitely had an impact on his songwriting.
"It's made it more dystopian," he says, "because it's hard being a father. It's very rewarding but I worry way more now, about my son and the world in general." However, taking his personal concerns and placing them in a more universal context turned out to be an incredibly fruitful pursuit for the band.
"In the moments where I could write, that was a good way to say, 'I'm worried about my family or my son' but then ask, 'Okay, where are our larger anxieties coming from?'"
These new-found anxieties are plentiful in the lyrics of Candela Farm's new EP, DADF#AD, which pairs ragged, upbeat rockers with downbeat titles like "Sound of Decay" and "Living in the End Times." Indeed, Candela alternates between sweetly singing and belting out lyrics that are equal parts vicious and cryptic over bright, bouncing grooves and sharp saxophone blasts. "They're watching Athens burn / But there's no one to cover the flame," Candela sings on the album's closer, "Send in the troops / Spending up all of the surplus / Armouring cars driving us deep into end times."
"That's a rip off of a Slavoj Žižek book," Candela explains. "He has an idea of making up fake nostalgia for something that didn't really exist."
Compared with the songwriting of Plus Perfect, who broke up in 2012, the tone is a natural evolution for Candela. "What was I writing about before?" he asks himself. "Love songs, selected history songs. Probably sex, but I still probably write about that."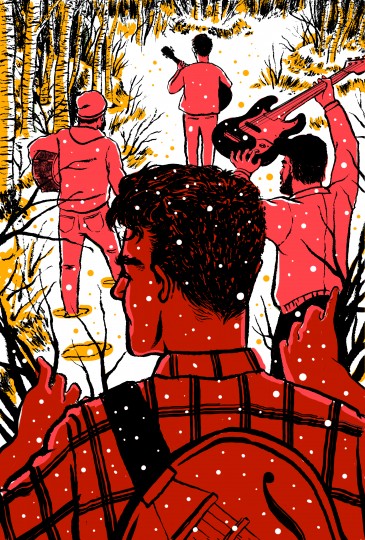 As his lyrics grow more personal, the practical move for Candela to do was pick a more personal name for this new band; a name for a musician transitioning into adult life, without the time to maintain a consistent lineup.
"I can always make music as Candela Farm and not have to call it by a new name [after every lineup change] or have to worry about replacing someone for a show," he says. "It's more fun making it project-based: either a recording or a show, and whoever is able to do it does it."
As of now, the band's lineup consists of Alex Cooper on baritone sax, Barry Higginson on bass, Ryan Shimo on drums, and Tyler Mountenay on guitar. And while Candela has nothing but great things to say about the lineup, he's aware that personnel are bound to change in the future:"I'm hoping it'll stay kind of what is right now, but I can't put pressure on it. It's too hard to operate that way as a band."
All of the players add their own personal touch to DADF#AD, but what's also unique is that all of the EP's songs were written and performed in Open-D tuning, which the confounding title is a reference to.
"It's one of the dronier tunings and is really easy," Candela says. "The open D tuning [is] warmer and looser, but there's also more of a pulse behind the songs and a groove."
Of course, one could argue that there's a double-meaning to the title, pronounced "Dad Fad" for the uninitiated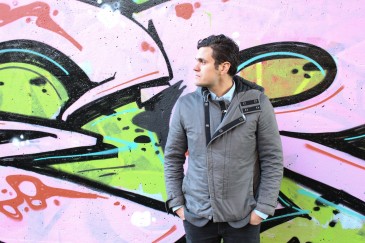 "I'm a dad, so I'm going through different life circumstances than the 20-somethings who are playing music," he says. "It was kind of a joke that would look cool in bold letters. It's not really that clever but it's like an inside thing for the three-million guitar players in the world."
Following their release show last month at The Lido, DADF#AD is now available as a digital download and a limited run of cassettes from Boat Dreams From the Hill — a trend more bands are following to help lower the costs of releasing music. As Candela explains, "We're not going into debt for an LP when most music is downloaded. A tape is like a more expensive promotional card."
With Candela and his barnyard crew bringing their rock 'n' roll farmers' market to an East Van neighbourhood near you, don't expect them to be rocking the block after midnight; late nights are no longer a fad for this dad.
"I'm too old, man," he says. "Those six-band shows that end at three in the morning? That's too kid stuff."
Catch Candela Farm at Astorino's on December 12 for the appropriately titled Battle of the Dads, where they'll be playing alongside other dad bands Shawn Mrazek Lives and The Flintettes.