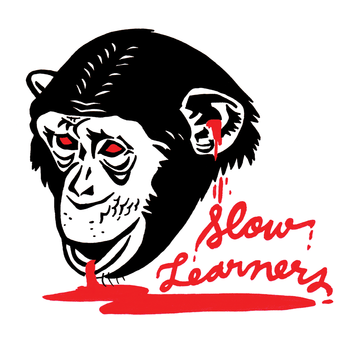 Recorded almost a year ago but released by the ScumBuzz label in October, these two rippers from Slow Learners should be added to your music collection immediately.
The band consists of three enigmatically named members: Penpen on drums (ex-Twin Fang member Penny Jo Buckner), John Operator on bass and vocals (a.k.a. Sean Hawryluk of Baptists and Ladyhawk fame) and, rounding things out on guitar and vocals, J.R. Pefko (a.k.a. Congress' John Johnston).

Listening to the first track, "Grocery Store," would make any mind-numbing trip to the shops a joy. The scuzzy guitars keep it cool enough for the kids, and the jump-around pop melody makes the song more pleasing to the ear than your average garage band offering.
"Your Friends" is super fast and fun. Again, the pop shines through, with the 'oooing' and 'ahhhing' make this track more than just a little catchy. Never fear, guitar and drum fiends, there is more than enough rock here to keep you happy. No sourpuss, shoe gazing here folks—just fun pop licks. The only complaint here is that there are only two songs. Pick it up Slow Learners! We want more!