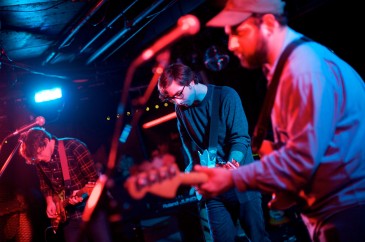 There's quite a buzz going on over Ridgewood, New Jersey, namely regarding the suburban community's bedroom pop exports, Big Troubles and Real Estate. The night kicked off, however, with a little Pacific Northwest representation with hometown band, The Shilohs. The band came about from their mutual love for the Flying Burrito Brothers and Big Star. They offered some good old-fashioned classic rock, a rare thing nowadays. Even though the quartet was collectively nursing a cold, they still managed to work up the crowd.

Big Troubles, the second act of the evening, mostly played tracks from their latest release, Romantic Comedy. Remnants of My Bloody Valentine's shoegazing dream pop resonated throughout the band's performance, particularly the polished and poppy "She Smiles For Pictures."
Drawing listeners to the over-saturated indie rock genre seemed to come effortlessly for Real Estate. These surf-rockers beat the sophomore slump with their album, Days. The album feels clean, fresh and, as usual, mellow.
Real Estate opened with the carefree, upbeat, seven-minute track "All the Same." At centre stage stood lead vocalist Martin Courtney, who brought a casual presence with his soothing vocals. Ducktails member Matthew Mondanile's lazy, rhythmic guitar harmonies, meanwhile, echoed in sync with the bass and drums—the band's performance wasn't too far off their record. There was, however, some unexpected energy coming from the crowd when the band played their current jangly single, "It's Real," which is a good thing. Despite working without a set list, the five-piece managed a well-rehearsed set featuring selections from Days and last year's self-titled album. They closed the show by playing "Out of Tune" —another languid melody, but with a glimmer of synth charm.
For those who have an ear for detail and constant sonic analysis, Real Estate may come across as iterative. Songs tend to sound alike. I could have sworn I heard the same melody throughout their set. But I'd like to believe that is the whole point. The band is quite determined to lull you into a hazy, hypnotic coma through their looped, layered, and calming guitar melodies. It's a good feeling, especially on cool autumn evening.