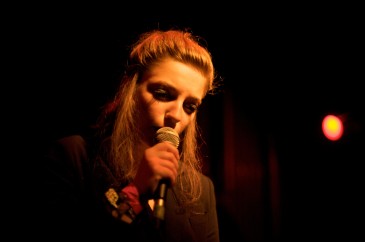 Keep Shelly In Athens- Fokionos Negri Street
The Waldorf's inter-room eclecticism tends to be a great backdrop for just about any event I've attended there. Sadly, for Athens, Greece's Balearic pop act Keep Shelly in Athens the multi-room aspect seemed to draw most of the audience away from their headlining set.

The night started with an unexpectedly dancey edge, courtesy of Blood Diamonds. Fronted by flamboyant Vancouver producer Michael Tucker, and backed by live drums and keyboards performed by members of Oh No! Yoko, the set turned the downstairs cabaret into a dance party in no time. Blood Diamonds mixed infectious rhythms with sunny synthetics and ambient dreamscapes for a truly escapist effect. Smoothly blending heartthrob hooks, like the vocal sample in "Hearts," with inviting rhythms, the locals managed to create a lively and gripping set that packed the room.
The crowd seriously thinned out, though, by the time Keep Shelly in Athens opened up with the slow-building, sun-scorched "In Love with Dusk." The Greek dream pop act's live set-up was fairly simple, with charming vocalist Sarah P backed by a guitarist, drummer, and a hooded laptop-and-synthesizer-instrumentalist. The result was a rather bare-bones blend of electronica and smooth pop with lush, dreamy soundscapes that left you in a warm, cozy place.
For a band that has been releasing music for barely a year, Keep Shelly in Athens put together a sizeable set, going through the sum of their released material, as well as giving a good taste of their upcoming Campus Martius EP. While ranging from the upbeat Balearic groove of "Cremona Memories" to the slow swelling "Running Out of You," their dynamic atmosphere almost got too mellow and relaxing for the crowd to remain standing at some points. Sarah P was faced with the tough job of tying the whole lot together with her dreamy vocals, which she did fairly well, despite suffering from a cold.
It makes little sense to me why someone would bill a positively upbeat act like Blood Diamonds to open for the shoegazey pop of Keep Shelly in Athens, whose mellowed-out sound seemed to be a turn-off for the majority of those that came for the opening act. While it was somewhat of a pity to see a band travel so far to play for such a small audience, for the few that stuck around till the very end of their set, it was well worth it.