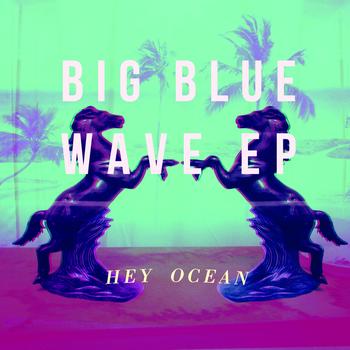 I loaded up Big Blue Wave not expecting much. Yet, despite containing only four tracks, it was awesome. Fucking awesome. It's astonishing how this Vancouver-based trio have the raw ability to craft fine, warm, and unbelievably catchy surf-pop songs that anybody (and I mean anybody) can listen to—and actually enjoy.

Hey Ocean! is a fresh-sounding and fresh-feeling group utilizing pop-esque melodies that blend elements of surf, alternative, and folk. However, despite being their second EP (and their fifth release overall), the songs don't feel rehashed from previous works. Ashleigh Ball's vocals soothe the senses in "Maps," the album's most passionate piece of music, and entices the ears with her perky singing style. When coupled with guitarist David Beckingham and guitarist/ bassist Dave Vertesi's more aggressive instrumentation, such as on "Big Blue Wave," Ball's singing still stands up and adapts readily.
However, Big Blue Wave's biggest (and most appreciated) surprise is the group's surf-centric rendition of the Ronettes' "Be My Baby." It's easily the EP's best number.
Albeit lacking in length, Big Blue Wave is a fantastic and utterly dreamy EP. With time, I can only hope to see a full-length release featuring many, if not all, of the same elements in use here, purely because they work so damned well. Hey Ocean! is clearly paving a clear future of pop-laden success.