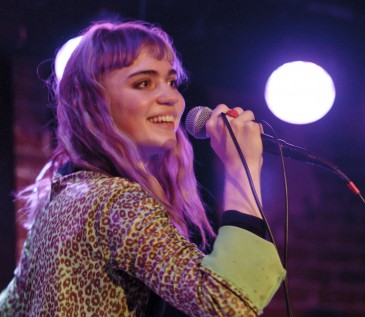 The Electric Owl, described by a friend of a friend as an "Earls for hipsters," had no unreserved or unoccupied tables by 9 p.m. Immediately disappointed by this and the general kitschy decor of the place, I managed to convince one of the waiters to give me a small reserved table in the corner, where I sat and focused on the fact that Kid A was playing in the background. A small and much needed act of redemption for the venue.

The opening act, a local duo called Myths, spray-painted their set with eccentricities. Surrounded by their echoing electronics, Lief Hall and Quinne Rodgers demonstrated their sonic abilities, while adding to that performance visually. Hall, wearing some sort of fairy wedding dress splattered in glow-in-the-dark paint, caught the eye of the crowd as she danced, completely transfixed by her own angelic and eerie hauntings. Despite one or two brief and uncaptivating ambient noisescapes, Myths was a success because they were passionate and talented.
Claire Boucher, a.k.a. Grimes, graced the stage around 11 p.m. wearing a regal green cloak, high braided hair, and what appeared to be fingerless skeleton gloves. Delighting me immediately, her choice opening song was "Oblivion." Boucher's layered vocals on the number, sounding celestial over top the electric beat, catch and pull you in a new direction every few seconds, making it irresistible. Her performance was an exercise in technique, as she sang and mixed her own vocals, showing her ability to create and place sound in a live setting. Indeed, Boucher's singing suggested an alluring innocence, with her layered vocals and strong electronic beats transitioning as extensions of one another.
The performance was interrupted, though, when Boucher commented to the crowd that her shoes were "too tall", while another moment had her experiencing technical difficulties trying to start a new song. Overall though, Grimes was a well-received, well-composed performer whose patience should also be credited.
While early on, Grimes introduced her lone dancer, Duffy, a self-declared "spiritual dancer" who displayed a clear passion for scarves, he was joined by a number of onstage invaders by set's end. Grimes was tolerant of the accumulation of drunken bodies on stage, clearly humble enough to concede some of her personal space to these fans. She even entertained the ramblings of a drunken girl who, caught up in her own stream of consciousness, asked for a moment of silence for a deceased friend of a friend and then immediately forgot her own request and yelled, "give it up for Grimes!" This brought a sort of surreal ending to the show. It may sound morose, but the outburst was actually comical in light of the girl's insincerity and shockingly weak attention span.In the end, this awkward incident demonstrated the graciousness of Grimes. Hopefully, as she rises through the ranks of musicdom, Boucher will be provided with better stage security.