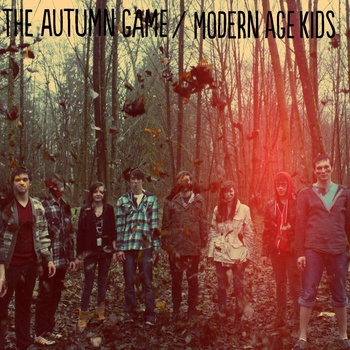 While the winter may seem like an ironic time to be releasing "The Autumn Game" / "Modern Age Kids," this bubbly one-two punch from Langley's Derrival couldn't come at a more appreciative part of the year.
Staving off the seasonal blues by shedding the heavier tones found on last year's Where There's Smoke EP, Derrival seem to be embracing a more energetic approach to music, one that suits them just fine.

"Sun's going to set / Doesn't have to be sad." Such is one of the lines from "The Autumn Game," accompanied by a simple four note repetition that reminds listeners that while the pacing and overall atmosphere of Derrival's songs may have shifted, the lyrics remain a constant bridge between their old and new selves. Vocals and instruments feed off of each other to achieve a rising momentum on the first track, but quickly switch pace as soon as "Modern Age Kids" kicks in.
Reminiscent of something that perhaps Arkells would have whipped up, the piano-heavy song shines the spotlight on problems facing the youth of today and the atmosphere they're being brought up in.
Like the transitional season featured so prominently on its faded album cover, the seven-inch has a tragically brief lifespan, running just barely over five minutes. But as long as Derrival can maintain the momentum and apply their new style to future works, I'll be there to steal a listen.