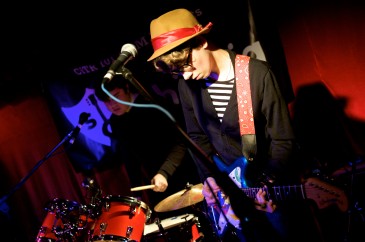 CiTR's SHiNDiG 2011 competition came to a stunning conclusion before a packed house at the Railway Club. Each of the three acts put up a good fight, but there was to be only one true victor.

Starting the night off was one-man band From Birch to Yew (a.k.a. Norika Yue). The gifted 18-year-old charmed the crowd with his earnest brand of acoustic folk and candid between-song banter. He even dedicated the song "The Girls I've Never Had" to "relations" he had with a girl five years his senior.
From Birch to Yew was accomplished in his own right but did little to prepare the audience for the sonic assault of Tyranahorse. Lead by Prophecy Sun, this eclectic five-piece defied easy classification, blending together punk rock energy and purpose with new wave inflections. Sun's performance was especially stunning, her rough delivery reminiscent of both Karen O and John Lydon (especially on "Keep it Together"). The nimble bass work of Jaro Welz also deserves recognition, as his proficiency on the fretboard pummelled the crowd into submission, particularly on the thundering "Zombie Waltz." Tyranahorse were without a doubt the band to beat.
Sleuth were the third and final act to grace the stage. Their melancholic jangle pop was well received by the crowd but seemed to be really understated in comparison to the ruckus Tyranahorse produced just a brief time beforehand. Jasper Lastoria's dour baritone floated above their mostly mid-tempo tunes. The sunny but simultaneously sombre tone of the group's songs was executed proficiently, but ultimately left little of an impact.
Tyranahorse appeared to be the clear winners by the time the judges began their deliberations, so there was some genuine shock expressed when Sleuth were proclaimed the winners. All three of these acts performed to their strengths, but Tyranahorse seemed to have more to offer than any other band that night. Second place isn't too bad though.