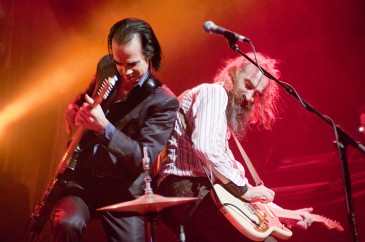 08 Honey Bee
The scene was as I imagined it would be sitting around pre-show: seeing multiple bearded older men wandering around, some lounging with their significant others hoping to relive the glory days. The younger generation was still represented plentifully, and this became more evident as the show neared and the floor began to crowd. A tremendous excitement, a rebellious punk energy hovered over the mass as the shades lowered on the windows. The critics all claimed an effort by Nick Cave to reclaim youth, to explore the roots of the Birthday Party again through this Grinderman experiment. We weren't here to serenely enjoy the Southern blues, folk, and lovely poetic monologue of Cave heard in the Bad Seeds. This was going to be pure, chaotic rock and roll.
This energy certainly wasn't tapped by Armen-Ra, a strange, androgynous figure who strolled out to play "Armenian laments" on his theremin and to generally freak us out in preparation for the main act. The crowd was largely left speechless. The feelings of confusion and displacement caused in me by Armen-Ra didn't quite coincide with the total ecstasy and fulfillment I would experience later by witnessing one of my personal musical idols up close and personal. I still haven't figured out the reason for this opener, but the complete absurdity of the choice is spectacular in its own way. When Nick Cave finally walked on stage, following the other three members, a surge went through the crowd, manifesting itself in a pulsating thrust toward the stage. This pushing and shoving, tending primarily toward the figure of Nick Cave like a compass pointing northward, would continue throughout the show. While bothersome at first, this constant ebb and flow, this discomfort, this heat, gave a whole new life to the performance as Grinderman truly grinded, throttled, and blasted through almost their entire discography (be it only two albums). The vitality of Cave, a 50-plus-year-old man, looking like an image of his younger self which I had seen many times in the DVD Pleasure Heads Must Burn—revealing many chaotic Birthday Party performances—was infectious.
A surprise was the fact that Cave played guitar throughout most of the tracks. Having gotten so
used to a Nick Cave who recited poetry while playing the piano or buzzed on a harmonica, this change was another representative of the fantastic flood of youth that can be heard in Grinderman's albums, but was full-blooded and omnipresent for a near two hours in person.
While this musicianship from Cave was nice, the greatest moments were those when he roamed about the stage, stood or crouched right in front of the crowd—virtually in the crowd—and howled or screeched his lyrics, pointing and thrusting and sweating, grabbing hands and at one point even pulling a crowd-surfer on-stage, tossing him to the floor and stomping his foot on the guy's chest until the song was finished. One moment that sticks out was when he hovered straight above me, screeching into the microphone "I just want to relax! I just want to relax!" and I was immediately brought back to the young Cave from the Birthday Party, and I felt like I was a part of that; I was somehow closely connected with this man I had heard so many times, at a distance, through headphones or speakers.