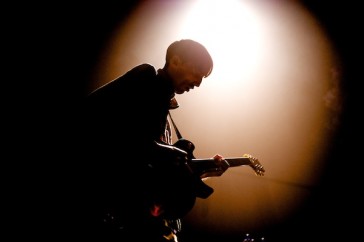 Though I showed up late I did get the chance to see Real Estate, who played their set with workman-like efficiency, sticking primarily to tracks off of last year's celebrated self-titled release on Woodsist Records. Set highlights included the hazy, nostalgia-inducing "Beach Comber" and the bouncy psych-pop of "Fake Blues". And maybe it was just the acoustics of the Rickshaw theatre, but the New Jersey trio were a commanding live presence, able to transform the fuzzy, surf-psych of their album tracks into captivating pop anthems.
Deerhunter appeared on stage around 11 p.m., and with little introduction launched directly into the melodic pop number of "Desire Lines", off the recently released praise-magnet Halcyon Digest. With an addictively repetitive chorus sung by guitarist Lockett Pundt, the driving bassline, and the controlled mid-song jam, "Desire Lines" was as an ideal introduction to the rest of Deerhunter's set-focused, energetic tracks with a few psychedelic detours. Bradford Cox resumed vocal duties on "Hazel St.", a spacey tune from 2007's Cryptograms, and followed with "Don't Cry" and "Revival", two crunchy pop numbers from Halcyon Digest. Mid-set, and after some amusing banter from Cox in which he imitated the voices of various bandmates, Pundt again had the opportunity to sing on "Fountain Stairs", another of his chorus-driven pop tracks. The relationship between Cox and Pundt is starting to resemble that of J. Mascis and Lou Barlow of Dinosaur Jr. in a very good way, with Cox creating catchy song structures within distortion and feedback, and Cox eschewing the noise to construct the occasional heartfelt ballad.
Of course, this was still a Deerhunter show, and so there were a few compulsory extended white-noise and psychedelic feedback sessions. The final three songs of the evening found the band finally playing some of the more aggressively, trippy tracks in their arsenal, starting with personal favorite "Nothing Ever Happened".
"Helicopter" followed and closing the set was the syncopated Jay Reatard tribute "He Would Have Laughed". These closing tracks were the highlight of the show, but an encore featuring "Agoraphobia" from Microcastle, and finishing with back-catalogue obscurity "Fluorescent Grey" was a noisy, blissed out treat.