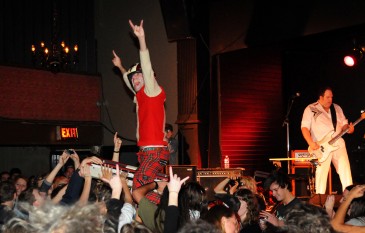 The 2009 CiTR Fundrive ended with a bang. Local punk sensations White Lung warmed up a packed house, definitely getting more of a reaction then they did during their previous night's performance at the Honey Lounge. Whereas at Honey the audience could barely be bothered to applaud, at this all-ages show White Lung got the kids moving. As usual, singer Mish Way's energetic delivery and Anne-Marie Vassiliou's thunderous drumming brought a dramatic impact to the group's gloomy post-punk sound.
Following the angst and anger in White Lung's set were the comedy stylings of sketch troupe Pump Trolley. I don't purport to be a comedy reviewer, so to summarize, the group performed some clever skits about a rock-and-roll school principal, a Klondike prospector with a complicated relationship with bears and a business meeting gone non-sequiturial. The group can be seen each Thursday at the Cottage Bistro on Main.
Finally, following the angry White Lung and the comedic Pump Trolley were the flat-out-fun local pop-punk legends the Evaporators. Nardwuar was all about the stage, and among the crowd, during the band's hectic set. Launching off with "Float Plane," the group immediately got everyone in the room (save those in the back) dancing. Later, Nardwuar took his keyboard crowd surfing on a journey around the room whilst still playing it. At the end of the band's set, during 'I Don't Need My Friends To Tell Me Who My Friends Are," the Human Serviette got the entire room to crouch and leap on command, jumping into a raucous dance party.
Closing out the night, Talent Time's Paul Anthony introduced chanteur Rick Valiant with the Sounds of Sinatra. Valiant performed enthusiastic renditions of "My Kind of Town (Chicago [Vancouver] is)" and "My Way." The songs proved a sentimental end to the evening and a good deal of warmth to appreciate before braving the night's cold, wet rain.