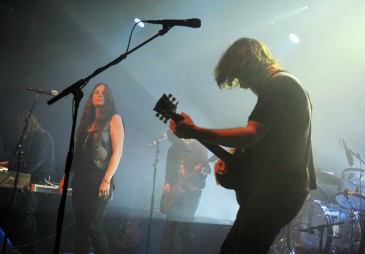 01 The Hair Song
Most of the shows I've seen recently have taken place in (more or less) cozy basements. The trek to shiny, flashy Granville street on Tuesday set the tone for the rest of the evening, which featured more venue security, coat check requirements and dude-bros in one evening than I usually encounter in a month.
I got to the Commodore just as Austin, Texas-based band the Black Angels started their set. I'd been listening to their 2010 release Phosphene Dream the week prior, but wasn't, other than that, overly familiar with them. They rocked a pretty strong performance—Doors-heavy keys, distorted guitar, maracas, tambourines, a driving backbeat provided by drummer Stephanie Bailey, joined at points by bassist Nate Ros. Highlights for me included "Telephone" and "Yellow Elevator," tracks that highlighted a nasal-y, Iggy Pop quality to vocalist Alex Maas' voice that came across differently live than on the recorded album.
Black Mountain's set opened with an empty stage, and an incantation that blended slowly into tribal beats. Then music: the title track from their most recent album Wilderness Heart. It's the way the album opens, and it's a suitably epic way to kick off a set.
The set-up of the Commodore Ballroom really reminds me of that requisite scene in a gangster movie where the lead actor sits at a tiny round table and there's a slinky-voiced, slinky-dressed woman crooning a lonely love song. That scene was pretty much replicated last Tuesday. Okay, not really, but Amber Webber's strong, clear voice was captivating, and her relaxed, a little bit shy stage persona was refreshing—she can really belt it out when she needs to, but also seems perfectly at home relaxing with a tambourine.
Though the set started strong—with "Wilderness Heart" and then "Let Spirits Ride"—it segued into a couple songs ("Wucan" and "Tyrants," both from 2008's In the Future) that slowed the evening down a bit prematurely. No matter, though—the band rallied. Drummer Josh Wells was sweating and grinning in a very catching way. It helped, too, that following "Wucan" and "Tyrants," a good mix of tracks from their growing repertoire—including my personal favourites, the melodic "Druganaut" and the energetic "Old Fangs" were performed.
The last song of the encore saw three members of the Black Angels join Black Mountain on-stage for "No Hits," an intense, complex track that crested, peaked, and provided the perfect cap to the evening. Overall? A really, really great live show that channelled classic psychedelic rock, but still managed to feel fresh—and, also, left me buzzing with energy.