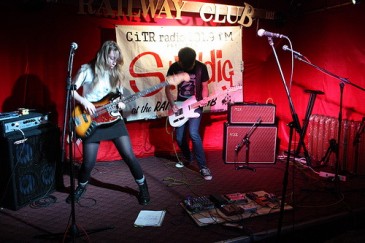 Night six of That Annual Local Music Competition from CiTR 101.9 FM saw Weathered Pines, Manta Ray-Gun and Witch Water face off in an epic showdown to end all showdowns! Well, not really, but it was a fair fight with a surprising—but not undeserved—result. The room wasn't packed. But for a rainy Tuesday in mid-October, it was respectable, peaking during the second set at a comfortable level of standing room only. I never sensed that special spark that makes a memorable show but, unlike night five, I left the Railway sans beer on my shirt.
Weathered Pines started off the night, playing their modern version of early Cash and Cline country: plaintive, but with a strong heart and a sense of humour. They were the tightest act musically but, as this short paragraph shows, I was left unenthused.
Next up was Manta Ray-Gun, who share my love for oddly placed hyphens and feisty female lead singers. Looking like they'd need a fake ID to see other Shindig shows, the duo and their drum track had post-punk ambitions that fell short, but not for lack of trying or talent. Axing the She Wants Revenge backup vocals—and a little growing up—will see these guys through. It saw them through to winning the night, and that's a pretty good start.
Finally, Witch Water—my failed prediction for winner—were a more sophisticated pair, with a drummer that drove the duo and a piano running the bass line. The pianist's vocals were haunting and the drummer was totally ruthless, if imperfect. Style-wise, they were the most intriguing by far, but song to song, they need to mix it up.
Having experienced the radical differences of night five, I was a little disappointed with night six. Each band was good, but not inspiring. I like a blaze of glory—going up or down—but this night just simmered.