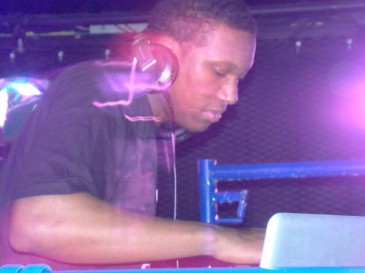 Joker's much-hyped "purple wow sound"—what G-funk would sound like if Dre grew up in Bristol on a diet of Nintendo and ecstasy—has earned him heaps of hype in 2009. Expectations were beyond high when he and MC Nomad came to the Biltmore on Thursday. Cure opened the night up with a solid set, followed by Lighta! regular Michael Red, who started dark and minimal before bringing some funkier basslines to warm up the jam-packed dancefloor for the night's headliners.
Fueled by a steady stream of vodka-cranberry, Joker had the crowd behind him almost immediately. He played a set of wonky tunes featuring tweaked-out versions of many of his own tracks, with "Purple City" and "Digidesign" drawing huge cheers and wild dancing. He moved on to mini-sets of UK garage and drum'n'bass, working the crowd into a sweaty frenzy before finally throwing in the towel. MC Nomad kept his role to a minimum, delivering a few solid verses over the night but mostly letting Joker call the shots.
The only glitch came toward the end of the night when Joker managed to stop a track just as it built up, leaving the room in silence. This drew some good-natured heckling from MC Nomad about Joker being too drunk to handle himself, but the crowd didn't seem to mind. A few giggles and grins, but most just took the chance to cheer on the man who had kept them dancing fiercely for the whole night. Joker proved that he's the real deal: a young talent that knows how to work a crowd as well as his studio gear—and he's only getting better.