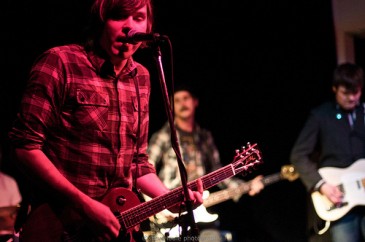 Recently, Dylan Thomas was the recipient of a rather large SOCAN cheque. Unfortunately, due to miscalculation, error and general craziness, the cheque wasn't actually supposed to go to him but to Bob Dylan instead.
First, some background:
Thomas is a talented songwriter and musician, and an incredibly patient man, originally from Prince Rupert, B.C. He is a former member of the Badamps and currently plays guitar in the Jolts. He also fronts his own band under his own name, and his most recent effort, Trees of Mystery, was recorded, mixed and mastered in just eight days. He toured to Winnipeg and back to support the album last summer, playing the Brandon Folk Festival for a second straight year. His backing band, for the first time in a while, does not contain a single member of Your Vancouver Vipers (link: www.myspace.com/vancouvervipers ). His new band consists of former WPP drummer Al Boyle, Joseph Lubinsky (who played with Edmonton band, Our Mercury), and Rolla Olak, who Thomas described as "one of the best guitar players I've ever played with." He jumped at an opportunity last year to play the Gorge Amphitheatre, opening for Tom Petty. It was bittersweet. He played the beer garden to an unattentive crowd and wasn't allowed to talk to Petty nor, apparently, was anyone else. He was also asked to open for Dave Matthews later on in the year. He politely turned that show down.
Dylan Thomas: I got [Bob Dylan's] SOCAN royalties.
Discorder: Oh my gosh! Maybe he got yours.
DT: They haven't come to me for [the money] yet, even though I called them five times. [They say] we'll call you back, and they never called back. And they're like, "Oh, we don't know what to do." So I'm thinking, just let it go and never mention it again.
D: Maybe it's a good thing. What a great story!
DT: $1800.
D: Oh my gosh!
DT: I wrote a song called "Working Man's Blues," and he wrote a song called "Working Man's Blues #2." … He came to Canada, played that song live, and from the live shows, he got $1800 from live music performance royalties. I guess Dylan Thomas [Rysstad's "Working Man Blues"] and Bob Dylan's "Working Man's Blues #2″…
D: Pretty close.
DT: I got the money.
D: Do you have the money saved up?
DT: No. When I saw it my bank account, that I had an extra $1800, I thought the bank screwed up. So I let it go for a day, thinking they would find out. Then I looked online and saw that it was SOCAN, and I was really happy. I thought it was the Jolts at first, but nobody else in the band got any money.
Five months after the fact, Dylan received a letter in the mail asking him to repay the $1800. When asked by the Georgia Straight what he planned to do about it he said, "Nothing, I'm broke."