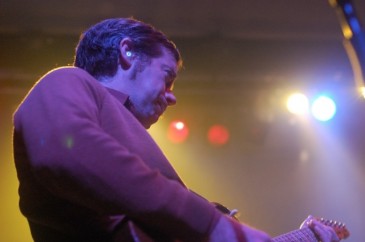 I have to admit, I was a little skeptical leading up to Califone rolling into town on their latest visit. I'm a big fan of their records, but this night, before doing the regular concert thing, the avant-folk quartet took the stage to play a live score for All My Friends Are Funeral Singers (also the title of their latest album), a film written and directed by lead singer Tim Rutili. While Rutili's talent as a songwriter has been well documented, this was, as far as I know, his first foray into feature-length movie territory.
I don't really consider myself much of a film critic (or a music one, for that matter), but I'd rate the film as good, but not great on its own. There were a few missteps, but the dialogue was sharp, the acting was fairly strong, and the story, of a psychic who lives in a house full of spirits (the titular "funeral singers"), is a compelling one. If you picked it up on DVD, you probably wouldn't consider it a waste of an evening. Califone's accompanying live performance elevated the whole experience to something truly special, though. The precision with which they performed the soundtrack was impressive, and the way a live band sounded compared to even the best-sounding canned score was amazing.
After the film, Califone took a short break before returning to perform a more traditional set, pulling from across their catalogue, and taking advantage of the astonishingly crisp sound in the rather cavernous Rickshaw Theatre. Ending things off with "actual songs" including gems like "The Orchids" was nice, but the film/score was the true highlight of the evening.