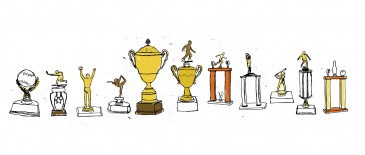 This is Discorder's final issue of the year and, what's more, the decade.
So as we say goodbye to 2009 and the awkwardness of not knowing what to call the ten years that preceded it ("The aughts"? "The 2000s"? "The zeros"?), let's get down to that favourite activity of compulsive music nerds (and indeed, compulsive nerds everywhere): making lists.
For Discorder's Best of the Decade, we contacted 33 local music journalists, DJs, critics and broadcasters to find out everyone's favourite ten local bands or artists of the past ten years. To be eligible, an artist simply had to play a show or release an album between January 1, 2000 and December 1, 2009. Each respondent to our survey rated their ten favourite acts in order, and out of more than 150 acts named, we have calculated this Top 50 using our highly scientific polling methods.
It was quite a decade for Vancouver music, and a number of the artists on the list have achieved success and acclaim internationally. Some of the highest-ranking acts are virtually unknown outside the city, but well-loved by the local population. Meanwhile, some of the Vancouver acts to have gained the most notoriety (coughNickelbackcough) don't appear on our list at all.
Looking over these 50 names though, it's been a pretty rich decade with some really creative people doing some really cool things. It seems to suggest that when it's raining outside, lots of people are staying indoors, writing great songs, tinkering away at keyboards and pounding away on guitars, and making all kinds of cool, weird sounds. Here's to another ten years of more of this.
Our esteemed jury:
Jules Andre-Brown (CiTR, Crimes & Treasons)
Anita Bee (CiTR, Samsquantch's Hideaway)
Sarah Charrouf (Discorder)
Jenna Chow (CBC)
Chris-A-Riffic (Discorder, CiTR, Parts Unknown)
Shawn Conner (Guttersnipe)
Shea Dahl (AMS)
Aisha Davidson (Discorder)
Steve Edge (CiTR, The Saturday Edge)
Kaitlin Fontana (Spin, Exclaim!)
Simon Foreman (Discorder)
Dan Fumano (Discorder)
Darren Gawle (CiTR, Stereoscopic Redoubt)
Alex Hudson (Discorder, Chipped Hip, Beat Route)
Marielle Kho (CiTR, We All Fall Down)
Bob Kronbauer (Vancouver Is Awesome)
Ben Lai (Discorder, CiTR, Thunderbird Radio Hell)
Grant Lawrence (CBC Radio 3)
Chris Little (Discorder)
Michelle Mayne (Discorder)
Duncan McHugh (CiTR, Duncan's Donuts)
Luke Meat (CiTR, Anoize)
Quinn Omori (From Blown Speakers)
Tristan Orchard (Winnie Cooper)
Cam Reed (Music Waste, Only)
Mark Richardson (CiTR, Pop Drones)
Al Smith (Discorder, Exclaim!)
Spike (CiTR, Canadian Way)
David Stansfield (Discorder)
Tanya Vanthournout (the Skinny)
Curtis Woloschuk (West Ender)
Quentin Wright (CiTR, Chips With Everything)
Jordie Yow (Discorder)
50. Elizabeth
Straight-up Joy Division revival of the best kind.
49. Gangbang
Unabashedly lo-fi, charmingly fun and undeniably sexy, the two gals in Gangbang serve up a bratty mix of songs about heartbreak, robots and Elvis Stojko.
48. Tas 1000
The best music you will ever hear with an answering machine on lead vocals.
47. The Be Good Tanyas
The three ladies who make up this acoustic folk trio sprinkle beautiful hints of blues and country throughout their music making each of their songs a gem.
46. No Gold
Audible sunshine. A tropical dance party.
45. The Green Hour Band
'60s-inspired psychedelia in really tight pants.
44. Said The Whale
Hugely likable pop-rock combo with a distinct Pacific NW vibe.
43. Doomeastvan
The name says it all: death metal from East Van. Amazing.
42. My Project: Blue
Now defunct, everyone still holds out hope for a reunion of these pop maestros.
41. Brasstronaut
Hauntingly beautiful melodies, thoughtful lyrics and, yes, brass.
40. The Smugglers
Even at the tail end of their career they still kicked it this decade.
39. The Jolts
The Jolts rip shit up.
38. Ladies Night
Noisy.
37. The Rebel Spell
Vancouver's finest politically motivated punk rock.
36. Vancougar
Hook-filled pop, but with just enough edge to keep you coming back.
35. Fond of Tigers
More like fond of this band. Post-rock never sounded so good.
34. Snfu
Godfathers of the local punk scene. It's probably safe to say that they've influenced a good number of the other 49 artists on this list.
33. Bend Sinister
Listening to Bend Sinister is like a lesson in the history of rock. There's a little bit of everything here.
32. B-Lines
Bus punk. They've been written up in the Buzzer. Who else can make that claim?
31. Secret Mommy
Andy Dixon takes everything from acoustic instrumental samples to the sounds of people at judo practice and makes brilliant electronic blends.