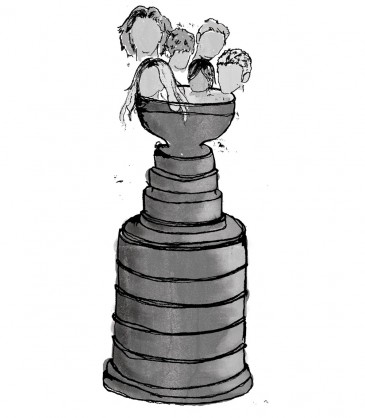 10. Red Light Sting
They were only a band for about five years and they haven't been a band for more than five, but I still haven't seen any band live more times than I saw the Red Light Sting. They inhabited the same sonic real estate as countless other early-'00s bands, mixing No Wave and hardcore in spastic fashion, but something about the quintet set them apart from their contemporaries. Maybe it was the tag-team attack of Gregory Adams' quiet-loud-then-louder vocals and the punctuating shouts of Zoë Verkuylen. Or maybe it was the way Verkuylen stabbed at her synth like she was soundtracking an 8-bit video game. Maybe it was the way Paul Patko and Geoff MacDonald held down the low end with the kind of precision that made all of the sonic chaos that was piled over top of it danceable. Maybe it was Andy Dixon's razor sharp riffing. Or maybe it was something that I'll never quite put my finger on. What I do know though, is that when Discorder asked me for a list of "the best local acts of the decade," it took awhile to decide how to fill spots 2-10, but I had "the Red Light Sting" penciled in at #1 immediately.
—Quinn Omori
9. Bison B.C.
Every bit as heavy, hairy and powerful as their moniker implies, this metal behemoth formed when James Farwell, leader of beloved skate-punk shredder S.T.R.E.E.T.S., found Brad Mackinnon, a drummer who had done time with some other much-loved Vancouver bands including Radio Berlin and Pink Mountaintops. Then, with Dan And, Farwell found a counterpart uniquely equipped to share the guitar/vocals/songwriting/beard duties with him. Finally, they found an accomplished avant-garde jazz saxophonist, Masa Anzai, to play bass, because why the fuck not.
They signed with metal powerhouse Metal Blade Records, changed from Bison to Bison B.C. (which stands for either Before Christ, British Columbia or perhaps Brutally Crucial, depending on whom you ask and when), and kept on rampaging.
Extensive touring over the last two years has earned Bison B.C. a fan base around North America, but back in Vancouver, they're revered as nothing less than hometown heroes. And the quartet has earned this well-deserved adulation the old-fashioned way: getting up on stage and just fucking crushing it. But that's not to belittle their recorded output—their upcoming third album (their second for Metal Blade) is probably one of the most anticipated local releases of the new year.
—Dan Fumano
8. Mutators
In the annals of No Wave-revivalist noise music, the Mutators exploits are writ large. Coming into their terrifying own with the addition of singer Lief Hall, the trio's 2008 full length Secret Life is perhaps the most fully-realized statement of the scene that emerged from the East Side's fly-by-night Emergency Room. They called it quits in 2009, much to the chagrin of the rest of us; during their run, they were the best band in Vancouver. There, I said it. The Mutators were without comparison in their ferocious energy, combining ear-shattering blasts of noise with remarkable songwriting, and Hall's Lydia Lunch-on-steroids bellowing was both genuinely frightening and kind of mind-blowing, given her small stature. With several North American tours under their belts, the Mutators were like noise-punk evangelists, preaching from ratty basement pulpits across the continent. Drummer Justin Gradin's new project, Random Cuts, is definitely worth keeping an eye on.
—Al Smith
7. You Say Party! We Say Die!
The trials and tribulations of You Say Party! We Say Die! has been well documented over the past few years. Aside from being banned from entering the United States in 2006 due to visa troubles, the band almost broke up in 2007 during a stressful European tour. Assertively proving true the old adage that what doesn't kill you only makes you stronger, the Abbotsford natives defied all odds and put out one of this year's top albums.
However, it is through live performance that the quintet demonstrates its true potency. If you are going to name your band You Say Party! We Say Die!, you better kick ass on stage or people are going to leave your show disappointed. Fortunately the band has lived up to and surpassed all those expectations since their first gig in 2004. No one will ever question YSP!WSD!'s magical knack for whipping a crowd into a frenzy by performing their dance-punk anthems with unrelenting energy and enthusiasm. But equally impressive is their recent ability to captivate the same audience with low-key pop gems highlighted by dreamy vocals. YSP!WSD! is no one trick pony—easily one of the best bands in town.
—Ben Lai
6. Japandroids
Japandroids are so huge that I went and got my hair cut and said "make it awesome" and they totally cut it like Brian's.
It's really empowering to hear songs about your hometown. I'm still waiting for the Vancouver version of "Oliver Square" but "Rockers East Van" comes very close. It's pretty ironic that a song about feeling frustrated in a dead-end music scene ultimately ends up finding a worldwide audience via Pitchfork.
All the attention has been well deserved—they have created something that is unique and extremely listenable. While I wouldn't describe their music as poppy, there are a lot of pop influences at work, everything from cheese ball '80s rock to grunge. And despite no one else backing me up on this, I swear I even hear a little Michael Jackson. They never go overboard (read: pop punk) with it, there's always an element of withholding through their lo-fi approach that leaves you wanting more.
It's a big success for all of Vancouver and the East Vancouver music community that this brings attention to. The average Vancouverite would be hard pressed to name ten local acts. The attention Japandroids elicited has introduced a lot of locals to their own music scene.
—Tristan Orchard
5. The Organ
The Organ were able to capture melancholy and loneliness in a way that only one other band ever could. Amid jangling guitars in the style of Johnny Marr and a taut, focused rhythm section, the sonorous voice of Katie Sketch connected with listeners on both sides of the Atlantic. Lyrics were stark but evocative: confessions of secret feelings everyone shares or depictions of moments in time when emotional baggage is a lasting weight on the soul. The ladies never succumbed to hype; despite mounting pressure to release a full-length album, they scrapped an essentially finished version of 2004's Grab That Gun because they were unhappy with the result, instead opting to rerecord the entire thing. Continuing discomfort onstage was often misinterpreted as disaffection. Perhaps sharing intimately personal compositions could never be completely natural. The Organ was born in Vancouver, and while songs like "Memorize The City" and "Love, Love, Love" were informed by our own rain-soaked streets and the people who traverse them, they appealed just as easily to the alienation of any other urban landscape, and to love and loss in any location. This city's latter-day Smiths, theirs is music to cherish.
—Simon Foreman
4. Ladyhawk
Ladyhawk are a band that seethes with the Pacific Northwest vibe. They are Vancouver: the most beautiful city when the sun is out and the gloomiest place on earth when it rains for months. When their first self-titled album was released in 2006 I was instantly drawn to the fantastical artwork: weird objects set amidst a forest. It was a solid album with "The Dugout" being the standout song. It was impressive. Then 2008 with Shots and upon hearing the opening notes from the first song, "I Don't Always Know What You're Saying," Ladyhawk was my new favourite band. Their songs, as a whole, have a grey-washed, dark feel, like our winters. Their genius lies in balancing the dark with light. When their light breaks the clouds, you feel June 21—the most glorious day of blazing sunshine. The guitars can be sludgy, but just under the muddy surface you can feel the clarity of bright notes straining to be heard. Just when you feel you've pegged the band as being stoner rock or guitar-jam-errific, you hear an upbeat blood pumper and you realize this band cannot fit any one description except for breathtaking. That's how I feel when listening to them. Alive. Thank you Ladyhawk for making me feel alive.
—Anita Bee
3. Destroyer
At times, Dan Bejar has seemed all too willing to embrace his Destroyer moniker. Ever prepared to shuffle his backing band, change musical course or unceremoniously abandon fan-favourite songs, the enigmatic songwriter has managed to entrance and confound listeners in equal measure. Despite the persistent changes, there's been one constant to Bejar's craft. Whether set to the bombastic squalls of This Night, spare synthesizers of Your Blues or "accessible" indie rock of Destroyer's Rubies, each new offering has solidified Bejar's status as one of the finest wordsmiths currently slinging a six-string.
Over the course of eight records, Bejar has developed a lyrical methodology so idiosyncratic that it's actually spawned an unofficial drinking game. For instance, listeners are invited to drink twice "whenever a 'meta' lyric refers to the song in progress or elements thereof." Stridently self-referential and reflective, Destroyer's imagery-rich, labyrinthine compositions both demand and reward repeat listens. Furthermore, Bejar also possesses a knack for disarming candour, exemplified by such self-effacing (and utterly romantic) lines as: "I was looking good on the day you fell for the way I looked."
Vancouver has produced an abundance of talented musicians in the past decade, but none of them can equal Bejar for fearless reinvention and inspired artistry.
—Curtis Woloschuk
2. Black Mountain
At Discorder, we normally tend to avoid rock clichés, but Steve McBean & co. make us want to throw up the devil horns and headbang like it's 1975. Black Mountain—or, as we prefer to call them, "fuckin' Black Mountain!"—channel the mountain-sized blues riffage of Led Zeppelin or Black Sabbath with an epic, almost theatrical bent. These face-melting guitar workouts are set against the chilling vocals of Amber Webber, whose shuddering vibrato ensures that the group can never be pigeonholed as a nostalgia act.
Black Mountain's self-titled debut was released in 2005, earning rave reviews with its combination of grandiose psychedelic rock ("Don't Run Our Hearts Around") and peppy, Velvet Underground-inspired pop ("No Satisfaction"). Three years later, In the Future upped the ante with crisper production and more complex songwriting, including a four-part song suite clocking in at almost 17 minutes ("Bright Lights"). The album also featured more prominent keyboards than its predecessor, with the spacy atmospherics on "Wucan" and "Angels" earning the group the label of "stoner rock." With an explosive live show to match these unforgettable albums (not to mention the band members' impressive work in the Downtown Eastside), Black Mountain is a local treasure, and the city's best source of '70s-style rock.
—Alex Hudson
1. The New Pornographers
There was a time when it didn't seem like the New Pornographer's were the biggest band in our scene; they were our scene. Hyperbole? A little bit, but between Carl Newman, Dan Bejar, Todd Fancey, Neko Case, John Collins, Kurt Dahl , kathryn Calder and Blaine Thurier you captured members of Destroyer, Superconductor, Zumpano, Maow, the Evaporators, Age of Electric, Limblifter, Immaculate Machine and Cub. This band is the final product of bands that would probably have dominated a best of the decade list for the '90s. Mass Romantic, Electric Version, Twin Cinema and even the less-fantastic Challengers are some of the greatest albums ever to come out of our city.
This supergroup was the perfect melting pot of complimenary talents.
Carl Newman, the red-headed band leader should be mentioned first. Though he does the primary songwriting for the group, their songs always seem strongest when it feels like everyone is participating.
Neko Case's spectacular voice perfectly accentuated Carl Newman's elegant pop hooks. Lay this overtop of Dahl's fantastic drumming and occasionally have a song written and sung by Vancouver's indie poet laureate Dan Bejar, and there was a little bit of something for everyone. No member of the band ever slacked and those that shone were—and those that haven't moved still are—some of the brightest stars in Vancouver's music scene.
Their musical collective produced spectacular albums with amazing consistency and they've always been a bit of a critic's darling. They always had that magic formula that made them hit every song just right—their music is a little bit weird, but not weird enough to put anyone off. If you take a look you'll find them making appearances in many best of the year lists of music fans across the world.
The New Pornographers, while amazing, may be reaching the end of their Golden Era now though. Newman has moved to New York, Bejar has a second home in Italy and Case has had a lot of time to settle into her Arizona home. Their most recent album Challengers, is easily their weakest. The previous energy that made every song feel like it was an affirmation of this talented groups love for one another was missing. The addition of new members has shaken the roster and while vocalist/keyboardist Kathryn Calder is a very talented artist in her own right, this band's strength was their ability to create a sound of joyous camraderie that was a product of their unique group dynamic. The members aren't the same anymore and the feeling isn't there. The love just doesn't seem to be there anymore.
This band will probably never reachieve the heights that they soared to, but we cannot think of any band more deserving of being named Vancouver's greatest band of the decade.
—Jordie Yow