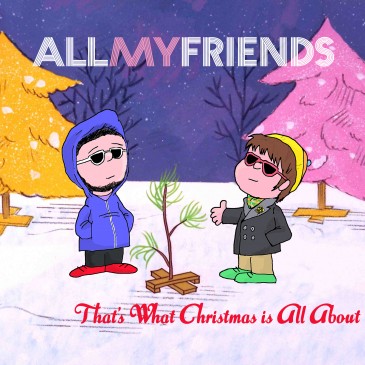 All My Friends has put out a two-track Christmas EP just in time for the Holidays, when Christmas music tends to get boring after so many Decembers. But All My Friends has done something different with That's What Christmas is All About. First, it's free. Second, it spans two formats: the downloadable MP3 or, if you'd rather have something more visual, they've made a video available on the Internet. Third, unlike your mom's scratched, droning and antiquated Christmas album, it's electronic.
According to band members Brian Holt and Josh Custodio, their bio reads "In 1876, Elisha Gray invented the first synthesizer. In 2009, Custodio showed Holt his MicroKorg synthesizer. What followed is what you hear."
Within just two tracks, you get the strong impression of a band who wants to do something original during a rather played out time of the year. The first track opens up with something completely unlike your typical "Jingle Bells" or "Silent Night". Instead, it's groovy and poppy, with yuletide bells and synthesizers fit for any dance party. Superimposed over ornate beats are Holt's lyrics divulging the realities of Christmas and love. Like Christmas music, love songs can be tiresome, but the track "December" is good enough to listen to on repeat in all its electronic splendor. What's more, the video for "December" is, according to All My Friends, "a mash-up of our favorite Christmas nostalgia." You'll see Rudolph, Charlie Brown and A Muppet's Christmas among so many other classics.
The second track is a cover of "Have Yourself a Merry Little Christmas." The song doesn't stray too far from the original version, but it's magnetic nonetheless. Holt and Custodio sing in harmony with piano accompaniment in a way that breeds intimacy: indeed, it feels like they're right there singing to you.
This EP is so short and sweet that you'll probably want to rush out and get All My Friend's new six-track EP, released just a few months ago, titled I Have No Faith in Machines. Is there any non-banal way to say that Custodio and Holt have demonstrated both faith and expertise in their MicroKorg and Yamaha PSR-300 machines? No, we didn't think so.