Standing awkwardly at waterfront station, warm bodies skittered around me like squirrels. As I waited in stillness, I started to question my own scheme. For our interview, I had asked Tonye to take me to a space that offered her a source of healing, but despite my intrigue, I feared the ambiguity. At four pm, the sun started to bow behind the icy glass buildings. Days like those give the illusion of a seasonal transition. As much as I wanted to trust myself, the seasons, and Tonye, the loitering essence of winter made me crave the comfort of a warm den.
I first met Tonye at the brewery where I work. In my awe-filled nervousness, I attempted to articulate my appreciation for her presence. "You know," I said, "You're the first woman I've seen play here," and without hesitation, Tonye responded, "And what if I'm not a woman?" Her smart grin and soft eyes rightfully corrected me. Setting up, she danced around the stagnant space transcending smiles and positive energy. From this encounter, I would have never thought she was diversely-abled. The reality of her condition is that some days are good, while others don't hold that same privilege. The fluctuating accessibility that Tonye experiences prompts her activism regarding public awareness of invisible disabilities.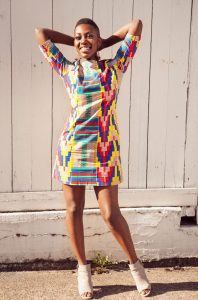 Describing her music as genre-fluid, flowing from soul, neo-folk to hip-hop, Tonye Aganaba describes herself as an Intersectional Artist: "I stand at a bunch of intersections in my life, all of us do. The music I choose to play is an expression of who I am, which is a lot of different things." As a black, immigrant, queer-identifying individual who is also disabled, Tonye's intersectional presence and genre-fluidity welcome all listeners, blurring stereotypes and offering a space for connection. "We all hit so many points together," excites the artist.
With sunshine and vigor, Tonye entered waterfront station. I re-introduced myself, and without hesitation, she welcomed me in with a warm bear hug. Once we exited the building, Tonye revealed our destination: "This is where I was born!" Despite her London roots, Gastown was where Tonye re-entered the world. But like all good metamorphosis tales, it came with struggle.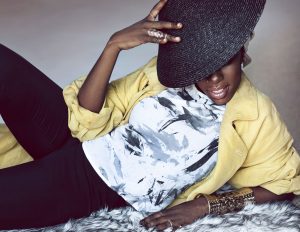 About five years ago, Tonye's music career was on a steady escalation into global spheres. The artist had signed a label and management deal, finished a record and was about to go on a world tour. Although it seemed like the stars were just starting to align, the world had something else in mind for her. In 2015, Tonye was diagnosed with Multiple Sclerosis and two weeks later she was involved in a car accident, breaking her back in six places. Both MS and the accident halted the momentum of her career, giving her only one option: to hibernate.
Although it has been four years since her diagnosis, Tonye continues to refer to her disease as the best thing that ever happened to her. "All that time on my own in hospital rooms, relearning how to walk and use my hands, taught me so much about human resilience and my own capacity for healing," says Tonye. Through isolation, Tonye reclaimed herself and accessed her own potential to heal through music. "[Music] has been a way for me to work through my mental, emotional and physical trauma, and put it in a place that is safe," admits Tonye. The capacity she has to heal herself and the spaces around her, seems to be a by-product of her very existence. Moving beyond previous goals of global fame and success, Tonye sees the adversity she has faced as a part of a bigger plan. "I like to identify archetypes that are guiding. If I see archetypes that I don't want, I don't go that way," expresses Tonye, "my life is shifting in the way it needs to shift right now."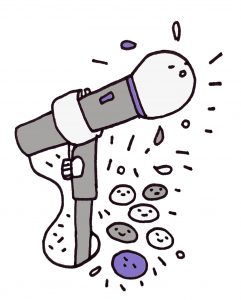 Tonye perceives all types of "down-time" as an opportunity for growth. "Winter here is awful," expresses Tonye, "but I've utilized the time where I can't get out so much to bolster my reserves, and fill myself up." Following the release of her EP with 604 records in December, 2018, Tonye will be entering spring fully fueled. On February 15, 2019, her single "Battle Bruised" will be released, followed by a full-length LP Something Comfortable in March. Tonye describes the LP as "me at my most free, creating music that really sits beautifully in my heart." Tonye's full charge beams outwardly, from the comfort of her nurturing den. "I'm the most excited I've ever been in my life for what's coming up next," she buzzes. With trust in the cycles of the universe, Tonye transcends both the earth's and bodies' winters, to flourish with the energy of sunshine.
x
If you'd like to hear more from Tonye, tune into to her Afro Science podcast, and check out the following events:

Feb 1 – Performing at the City of Vancouver Black History Month Celebration, Vancouver City Hall
FEB 13 – Launch of The AfroScience Podcast LIVE at Calabash Bistro. (Streaming at TONYEMusic.com)
Feb 15 – AfroScience: A one woman show about being Black in Canada.
Heritage Hall, Main St
Feb 23 – Tonye Aganaba and a Live Band at Winter Jazz Fest, Performance Works, Granville Island