On July 6, 2017, a wildfire sparked just west of 100-Mile House. The following day, with over 170 additional wildfires reported throughout the province, British Columbia was put under a state of emergency. On July 15, over 24,000 residents of Williams Lake and the surrounding areas were evacuated due to the encroaching flames. Thousands of hectares of the Interior burned away, major routes were indefinitely closed and the lives and livelihoods of countless people were put into limbo. Needless to say, Arts on the Fly Festival, an annual music festival in Horsefly, B.C., that was scheduled for mid-July was cancelled.
"Dark Times started in the aftermath of all that," explains Brandon Hoffman, Artistic Director of both Arts on the Fly Festival and the newly minted, Dark Times. "[It's] something of a consolation festival. We wanted to give Cariboo folk a chance to cut loose and shake off any lingering anxieties post-evacuation." Taking place from March 2 to 4 in Williams Lake, distant from the worry of evacuation and fire, Dark Times picks up where Arts on the Fly was forced to stop.
While there were many festivals all across the province that were cancelled or under threat of being cancelled, "our festival, being relatively small, rode it out pretty well," says Hoffman. With the support of other festivals — "Robson Valley Music Fest, Music on the Mountain and Rogue Arts Fest all honoured AOTF tickets at their gate," — and a fundraiser organized by Vancouver artists that were scheduled to perform at AOTF, Hoffman and the rest of the organizers were able to stay afloat financially despite the cancellation. "There were a few costs we were on the hook for, but it was manageable. Larger festivals are a different situation altogether," says Hoffman. "Very often options are go bankrupt or piss off your entire fan-base by denying refunds."
While AOTF managed to pull through 2017 intact, the threat of future environmental disasters still looms over the festival scene in B.C.. "For the past few years, I've been attending a conference for festival organizers in Wells called Northern Exposure," explains Hoffman. "Every year, at some point or another, we've gotten into a brainstorming session around some sort of trust-fund," in the event of festival cancellation.
Along with the festivals themselves, which rely on the personal investment and dedication of organizers like Hoffman, countless artists count on summer music festivals to earn enough income to make it through the rest of the year. Especially for artists located in smaller, more rural locations, the cancellation of summer festivals can be economically devastating. While it is still only a concept, Hoffman explains that "the big plan is that festivals could put a small percentage of their ticket sales into this fund, and if somebody has to cancel, they can apply to the trustees for a bail-out," providing a sort of insurance policy for the festival and the artists.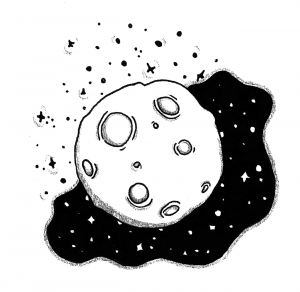 In the meantime, many of the acts that were slated to play in Horsefly this past summer have reappeared on Dark Times' lineup. With artists like Uschi Tala, Malcolm Jack, Wallgrin, Plasteroid, Sonya Littlejohn and Marin Patenaude, among many others, Dark Times showcases the variety and diversity of the province's extensive artistic community. "I wanted the kind of music that lets you feel comfortable exploring your dark side a bit," explains Hoffman. "That can mean a lot of different things to a lot of different people, but the bottom line is artists who make space for their audience. You can listen to the lyrics, or not. You can dance, or not. You can sing along, or not." For Hoffman, the festival is a chance both to reflect on the precariousness of our modern lives, so affected by the whims of social, cultural, and environmental catastrophe and to escape from the worry of it all.
"I keep thinking back to the childhood feeling of sneaking around in the halls during a school dance," says Hoffman, "how a place that feels so routine and boring can suddenly have a new light shed on it." Dark Times aims to reframe the town of Williams Lake. For many, the image of the town is still linked to the fires and evacuations of the past year — "Fly ash was literally raining from black skies," he says — but Dark Times offers an opportunity to "wander around the core of Williams Lake deep into the night," to explore its venues and streets amidst the liveliness of its art scene.
"I grew up here," explains Hoffman, "and left for my twenties to live as a starving artist and student in Vancouver. I felt the pull of small-town living again, and there happened to be a lot of good opportunities in the Cariboo." Living in Williams Lake full-time now, Hoffman is a shining example of how someone can be active in an artistic community without living in an urban centre. In addition to organizing Dark Times and AOTF, Hoffman hosts the Safety Meeting concert series in Williams Lake, records and performs under the name Blocktreat, and does sound for countless shows and festivals across the province. "It's pretty hilarious how many people from the Lower Mainland never dare venture past Hope," he says. While the geographic distances may be greater, the concentration of artists among the residents of the rest of B.C. is extraordinary. "We'd love to see more city folk come up for stuff like this!" he says. "It's a totally different vibe, but you might like it."
Whether you're looking to release the stress of the past year, flames and all, escape the city for something completely different, or just wander around Williams Lake at night, Dark Times is the festival to do it. "It is a chance for us to come together," says Hoffman, "in all our glorious broken forms, tug each others' heart strings, and relish in the possibility that the end is nigh."
X
Dark Times is taking place in downtown Williams Lake, B.C., March 2-4. To purchase tickets, view the full lineup and find out more information, visit artsonthefly.com/darktimes