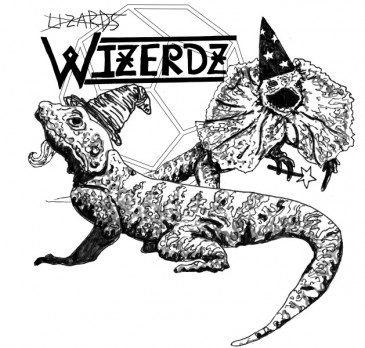 Placing second in CiTR's Shindig was Wizerdz, a group of guys who conjure up catchy dance tunes while dressed in flowing robes and fake white beards. Each Tuesday they played they would boom out grand statements like, "We summon thee to the dance floor," before getting the audience to break a sweat to their rock-inflected techno music. Discorder recently caught up with the spell-casters —Ferrobear Porridgebeard of the Forest Fair (a.k.a. Barry Warren), Voltus Ambrosius, Lord of Eldemort (a.k.a. Matt MacEwing), Grandmar (a.k.a. Bryce Dundon), Nintendore Wiiz (a.k.a. Gowan Gillis) and Segoth Genisis (a.k.a. Dave Gens)—at their enchanted practice space to chat about what it's like to be a magical musician in a dance rock band.
Discorder: So why do you guys dress as wizards?
FP: We are wizards. It just made sense for wizard fashion to dress how we feel. When we get up on stage we feel like wizards. We feel like having fun and not taking it too seriously. Our wizard costume is what we need to wear to really bring out the magic.
VA: There's a real satirical aspect to the band and part of that is having nonsensical fun.
G: It makes all the sense that needs to make sense.
D: How did you guys meet each other?
NW: Our castles were close to each other in wizardry school and we gradually became friends.
FP: Once the chance came to prove ourselves, which was at the battle of the bands at our school, we decided to unite to form the most radical techno act.
D: What school was that?
FP: It was UVic School of Witchcraft and Wizardry.
D: Why the focus on dance music?
VA: Dance music was getting a little too sexy for our old wizard ways. So we wanted to bring it back to a more fantastical style.
NW: We just wanted to make a fun band that made people want to move.
D: Are you planning on recording any of your spells?
FP: We're going to use some of the Shindig prize hours to go towards recording and I think we're also going to try and get some more [recording time] and try and release a full album.
VA: We currently have an EP out that we sell at our shows. We customize each cover so that every one is one of a kind.
NW: We're really trying to capture the magical feel, the raw feel, the live feel of our live show. We figure it will either work out great or be like The Ring and people will die seven days after listening to it.
FP: Magic can sometimes backfire when recorded.
D: What's it going to be called?
NW: Tentatively Party Owl the Time with a picture of an owl on the cover. That's subject to change.
D: [To Segoth Genisis] So you're new in the band, what do you do?
SG: I do all sorts of different things; whatever needs to be done for whatever song. So that's the drums, the bass, the guitar…
VA: We don't really have consistent instruments. Everybody switches around.
G: We're going to have a lot more percussion now because [Segoth] can drum, and I drum as well. So we're adding on a drum section … It's going to be more percussion-based.
VA: Auxillary percussion adds a lot to dance music
D: What else is the band doing?
FP: I think the big things are recording, having a fifth member in the band and rethinking our songs—or our spells—to incorporate five people. Also we want to start playing more shows out of town and more shows in town, too.
G: We've also been applying to festivals and stuff.
VA: That too we're hoping to get into Shambhala and we applied for Music Waste.
D: Are you guys serious about being a not serious band?
NW: Oh yeah! We're serious about not being serious.
VA: Every once in awhile we'll have someone come up to us and say, "You know, you guys are actually making really interesting, fun music. You really don't need the costumes." We kinda do, though. Everybody loves the costumes.
FP: The response we get from people who have never seen us and just came in … assuming any other band was playing and who are just blown away by the spectacle. Seeing how excited those people get really motivates us to keep bringing the silliness.
Wizerdz will be playing at Lucky Bar with the SSRIs in Victoria on Feb 11. Voltus Ambrosius is going to study the secrets of the ancients in Asia for a couple months, so the band will be on hiatus until April.