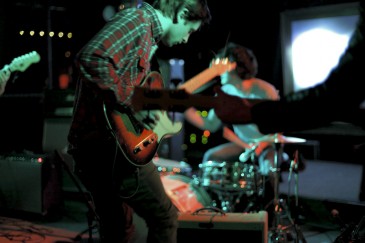 When it Comes to You
The importance of psychedelic music is regularly overlooked. Considered by some to be embarrassingly kitsch, naive and forever to be associated with the often lambasted hippies, it has nevertheless played a significant role in shaping the contemporary music landscape. From the playful and oblique lyrics of Animal Collective to the woozy and wandering guitars of Kyuss to the jangle and pop of Beck and way beyond, psychedelic music matters. The people behind the regular Psych Night at the Anza Club obviously agree, hence their series of live shows celebrating the music's lasting influence.
Two and a half hours after the doors opened, Northern Leadership took the stage, providing some good old, no-nonsense drinking music. Their heavy blues rock boasted some meaty riffs, but aside from the frontman's valiant efforts, the rhythm section failed to show sufficient enthusiasm to be convincing. Many of their tunes hinged on just one riff with little deviation, seeking joy through repetition yet not always finding it. It was hard to shake the feeling that their mojos just weren't workin' that night.
While Northern Leadership represented the testosterone-fuelled, animalistic aspect of rock 'n' roll, White Umbrella were a far more cerebral affair. Their music bore a striking resemblance to the fantastic Dead Meadow and could easily be criticised for being overly derivative. That would be missing the point, however, as stoner rock is largely about the revisiting and revising of psychedelia and proto-metal. Losing themselves in glorious, spacious jams, White Umbrella's grasp of texture and contrast was impressive, oscillating between crunching riffs and mellow, ambient passages.
Compared to the lengthy workouts of the preceding two bands, Dead Ghosts were relatively restrained and succinct. Some tunes were over before you realised they'd even started. Their west-coast garage rock was arresting and energetic and they've clearly got their song-writing chops in order. Sadly, it seemed as though the night had already peaked, with everyone either too tired or too drunk to properly enjoy their set. The band didn't get the response they fully deserved.