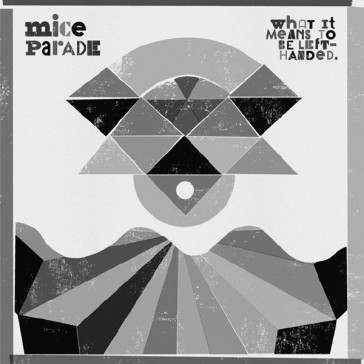 Nights Wave
Mice Parade's newest offering What It Means to Be Left-Handed is a metamorphosis, both in the progression of the album and the band's overall discography. What begins as a fusion of flamenco guitar, jazz rhythms and West-African inspired melodies in "Kupanda," for instance, ends as a darker shoegaze indie rock tune. The binding element, as with any Mice Parade record, is Adam Pierce's expertly crafted rhythms, often flirting with jazz beats and fast breaks. The band has transformed over the years by adding extremely talented musicians, including classical guitarist Dan Lipper, whose perfectly plucked strings often provide brilliant leads. But there is one element that separates this album from any other in the band's history.
Continuing the movement toward musically complex, yet accessible and catchy pop driven tunes, as evidenced by their previous self-titled effort, What It Means to Be Left Handed instantly attracts the listener with gorgeous pop melodies, often outlined by the sweet vocals of Caroline Lufkin. Her presence on the album simply pushes the sound into another dimension of greatness. After the worldly, folk-infused opening, the band presents their blend of indie-folk-pop with "In Between Times," a song that moves from soft and sweet to sonic chaos, all the while indulging the listener with a super catchy chorus. After listening to the first two songs, it is advisable to stop and reflect, perhaps press the repeat button and really take the time to hear the complex nuances of the music.
Enough can't be written about the rhythms that keep that album flowing. It is rare to have a band's sound highlighted by the rhythm section, but Pierce's skins are worthy of the distinction. The drums sound as if they were recorded in an open room, creating a natural and organic feel without ever overpowering the other components. Just when you think they have created the perfect song, along comes "Old Hat," an absolutely beautiful soundscape of dizzying classical guitar, pinned with piano and more of an electronic consistence to the drums. The crescendo is brilliant.
If there's a criticism, it is a faint one. The album finishes on a darker, slower mood in "Marry Anne," which is tad out of place from the energy generated from the previous songs. Be that as it may, What It Means to Be Left Handed should be placed early as a nominee for an album of the year award.