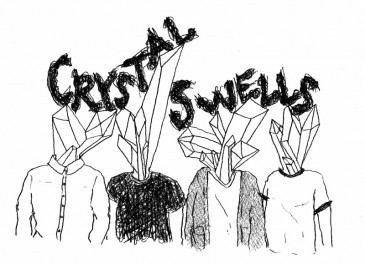 Burn It Electric
Coming off the hype of winning third place at Shindig, locals Crystal Swells have become just as known for their energetic live shows as their intense, lo-fi sound. Their recently released EP, Goethe Head Soup, for instance, was issued on cassette. You can't get more lo-fi than that! The tape, however, also contains a free digital download.
Though Crystal Swells unfortunately had to postpone a recent show at the Princeton Pub due to a family emergency concerning guitarist Tim McRobbie, the rest of the band—Ross Lalande (percussion), Nick Price (guitar/vocals), and Joel McDonald (vocals/bass/organ)—were kind enough to sit down with Discorder at the bar that night for a quick chat.
Discorder: So you guys are from Maple Ridge. How did you guys get started?
Nick Price: Well, we all had played in different bands in high school and knew each other since then. Then, all our bands were kind of dissolving or on hiatus. We got together in Joel's basement and started jamming out some covers.
D: And now you guys are releasing your second EP. It's called Goethe Head Soup, right? I was wondering, does it have anything to do with the German writer Johann Wolfgang von Goethe?
NP: Yeah, a little bit. Yeah, there's some Faust going on in there. And it's a pun off of Goat's Head Soup, the Rolling Stones album and then I worked in Goethe and, I don't know, it's… yeah, there is. Yes. [laughs].
D: How does this record differ from your first EP Crystal Mountain Girls?
Joel McDonald: I think it kind of sounds a little bit fuzzier. I think it's kind of louder.
Ross Lalande: [It] is.
JM: [laughs] Yeah, it just happened. We recorded it and it came out louder. Also, there's a little bit more noise and a little bit more surf. I think it was the summer time and we were, like, all into surf music at the time. I think it kind of comes through.
NP: I think the songs on Goethe Head Soup are generally better.
RL: I'd say the same thing. A lot of the stuff we recorded on Crystal Mountain Girls, we don't usually play too often at our shows anymore.
D: Well you mentioned the surf influence, and I definitely hear a surf undertone to a lot of the songs on Goethe Head Soup. Especially "Mellow Californian." I feel like recently a lot of indie bands have had that hint of surf in their music, like Wavves, Dum Dum Girls, etc. So why do you think it's so popular? What do you find so appealing about it?
NP: It sounds like it's made by young people. I mean, it's reminiscent of the '60s, obviously. Like the Beach Boys and Jan & Dean. I think it just sounds like young music made by young people for young people, and I think that's what's appealing about it.
RL: It's fun to dance to. It's fun to play!
NP: I don't feel like a lot of our structures are necessarily surf based. It's kind of like an aesthetic sheen we sort of put over stuff. I mean, we get compared to Fugazi sometimes, which is so cool. Joel and Ross, they bring a more complex writing style in, so it gets kind of prog-y with some math-rock parts. And that's kind of cool. Then the surf thing just kind of glazes over it.
D: Yeah, it's definitely like a hint of it.
JM: I think it stems from listening to a lot of garage rock. You can kind of hear that essential, bare bones rock 'n' roll. It's probably because a lot of the music you hear on commercial radio is the opposite of that, like the pendulum of the other side, because everyone is so sick of everything else.
D: So who are your influences?
JM: I think originally when we started the band, Nick and I had a radio show out in Abbotsford—we were both going to school at UFV [University of the Fraser Valley]—and I think at that point [we] realized [we] were on the same wave of music and were both into a lot of '90s lo-fi, kind of loser-rock. Like Sebadoh and Guided By Voices. And once we realized that, it seemed like it would be a good idea to jam and play music.
D: Before we end. Do you guys want to tell the people how they can get a copy of your new EP?
JM: You'll either have to catch us at a show, which is probably the best way to get one because then you get to come to our show. The other way is we might be able to get some of the local record stores to carry it, so maybe look out for it there. We're also selling it online on our Bandcamp site [crystalswells.bandcamp.com] and…
RL: Google it.
NP: Yeah, Google it. Just Google it [laughs].