It's no secret that the emo genre holds an unpleasant connotation for some, but forget about the eyeliner and all of that — let's talk content. Dad Thighs are about community connection, cathartic songwriting, and way more joking around than I had expected. When I showed up to meet the five members of Dad Thighs at their Red Gate practice space, guitarist / vocalist Felix and frontperson Victoria were there to greet me. After a short wait for drummer Devon, bassist Jill, and guitarist Kyle, we settled into the couches for a chat.
The group first came together in 2013 as a slot filler for a showcase of women musicians organized by Victoria at the now-closed NINES Culture Club. However, a number of lineup changes and some tumultuous personal struggles resulted in a 1.5-year hiatus. In January 2016, they released their first EP The Past Three Years to wrap up that part of their history, and now they have a debut album coming out January 2017.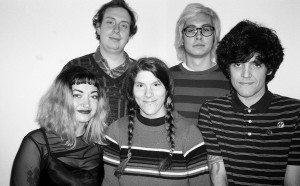 For the new album, The Ghosts I Fear, the band have taken a more mature, nuanced and self-reflective approach. Victoria explains, "This release takes a departure from the twinkly and pop-y tone of our previous EP, as it deals with how to cope with death, and how to be more aware of why we feel what we feel and how we act in times of desperation." Felix adds, "Everyone's done a sad love song, but we want to take that and look at different aspects of it."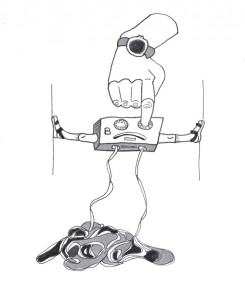 In the softer moments, Dad Thighs' sound takes influence from seminal Midwest emo bands like American Football, and when things get loud they lean more towards the post-hardcore. We talk back and forth about the nebulous subject of genre and settle somewhere between sad punk, emotive-rock, and as Kyle puts it, "Dad Thighs, the regular rock band."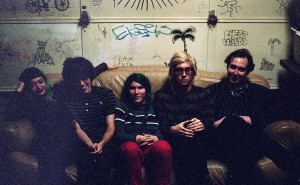 Recorded over three sessions with Michael Kraushaar at Bully's Studios, the new album is imbued with the energy of a live set and a palpable sense of urgency. Felix tells me, "We tried to record our set as one coherent piece so each song flows into the next." The results have interludes of pounding drums and blaring guitar noise flowing into standout tracks like the sprawling "Sometimes" and the heartbreaking "Of Summer." On these longer songs, the dynamic nature of the music shines through with feedback squalls and crunching power chords exhaling into warm, chiming arpeggios and harmonics.
Kyle jumps in to talk about the recording: "I've recorded with Mike four times now, and every time we go into the studio things just come out better than we anticipated." With Felix and Victoria as the principal songwriters, lyrics and progressions are brought to the table and the band gets together to jam on them. Felix summarizes, "We, like, make them sweet."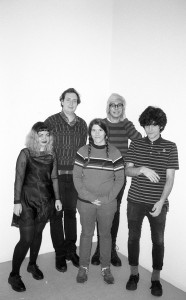 It occurs to me that lyrics in certain genres can be relatively "low stakes," where the songs don't require the author to truly reveal anything personal about themselves. That isn't the case with Dad Thighs. The themes of the album can be heavy, dealing with everything from coping with death to emotional self-awareness. "Of Summer" in particular deals with the struggles of Victoria's great grandmother "imprisoned by life's cruel hand." She explains, "Women rarely have a say in the matter, specifically my great grandmother living through two wars in Indonesia, raising 11 children and emigrating to Canada."
I ask Victoria what it's like to perform these songs. "A lot of people come up to me and tell me how nice it is to hear those feelings. One time somebody said it was like a form of therapy for them, which was really wild." For Felix, "it's definitely scary to go up and perform, especially initially, and with every new song you sort of regain that sense of fear, especially when they're so personal. You may know what the song is about, but the audience might not be able to connect."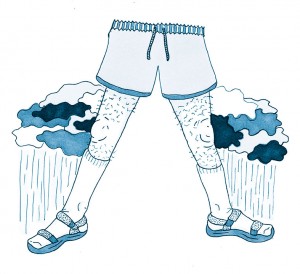 Dad Thighs have played seven shows since August 2016, but you'll have to look for them in arts spaces and houses. After a memorial show for their friend Gary at the Astoria, they've committed to exclusively playing all-ages shows. "We've become increasingly aware of social injustices and the importance of accessibility, so we decided to play strictly all ages shows," Victoria explains. Kyle adds "We're playing the shows we want to be playing, it's not like we're missing out on any gigs." As for the emo scene in Vancouver, Victoria says, "It's small but growing. With every show we notice more people."
Also important to the group, is playing and promoting bands with women, which confronts an oft-mentioned criticism of the emo genre – that the content is traditionally androcentric. "We love making music, obviously, but we think that the spaces that music occupies are equally as important," says Victoria.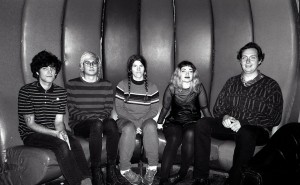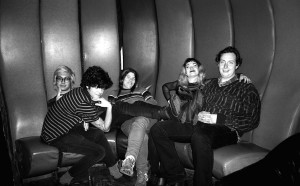 In many ways, the genre of emo represents a rejection of traditional rock 'n' roll posturing. For Dad Thighs this seems to be the perfect vehicle to carry their message, where earnest and candid emotional expression leads to genuine community connection. Whether it's something you rock out to at a show or something you listen to alone in your bedroom, their music is there to help you, and them, through difficult times.
X
Dad Thighs' The Ghosts I Fear comes out on cassette and digitally at dadthighs.bandcamp.com early in the new year.