On September 9, Turunesh celebrated the first anniversary of her sophomore album Satin Cassette with a packed-out show at the Biltmore Cabaret. This coincidentally fell on her birthday, but it wasn't that anniversary she was trying to commemorate. She had spent this last year promoting the album through music videos and live performances, but this was her first headline event dedicated to the world of Satin Cassette. This night was a night of firsts and lasts — the end of the Satin Cassette era, but the beginning of the next chapter. Turunesh and the team at Nėsha Empire, her record label, put on an astounding show with Black creativity at the very centre.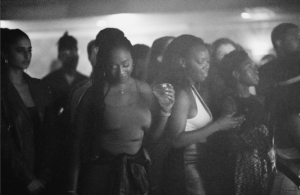 When I walked into the Biltmore, I immediately felt at home. I realized this was the first live show I've been to where I was not in the minority. After the crowd mingled and drinks were poured, Prado Monroe, the opening act, came on. Prado Monroe is an up-and-coming Afro-Indigenous artist who Turunesh describes as "an iconic artist and a living Vancouver legend." Prado gave us a fiery performance that had the audience grooving on more than one occasion. After a short break and some tunes from DJ Bazenga, Turunesh came on.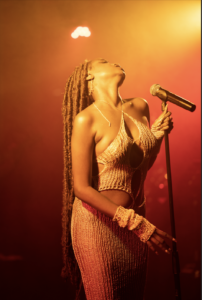 Anyone who has listened to the neo-soul artist knows they are at the risk of levitating, but her live performance took us to another plane altogether. For her first set, she was a vision in gold in a shimmering "modern goddess" ensemble inspired by her song "Rum and Butter" and styled by Nigerian stylist, Coco. Turunesh knows her voice tends to entrance, but her mission tonight was to entertain. Her raw vocals, intense eye contact and effortless sensuality held us captive from beginning to end. For her second set, Turunesh and her stylist went experimental and designed a sheer Aphrodite robe. This was inspired by her song "Coco Marijuana." All jewelry worn by Turunesh were custom made by Coco. When asked how she feels while performing, she describes it as a "spiritual back and forth" where she feels "seen in her truest form." 
Keeping with the theme of passion, local dancers, Nargis and Janessa, gave us a provocative burlesque dance number between Turunesh's first and second set. After her performance was over, the SweetxSawa team took over for the after-party. Pretty soon, the dance floor was flooded with more attendees who came to enjoy the DJs' infectious Afrobeats lineup. 
This was Nėsha Empire's first time putting on a live event, but it was obvious to none. According to Turunesh, there is a "scarcity mindset" in the Vancouver music industry, especially in the alternative scene. There is a lot of innovation, but due to gatekeeping, cliques form and community does not. Many Black creatives feel the need to shrink themselves to appeal to non-Black audiences, and at times, hoard their few resources. Turunesh is hellbent on breaking this cycle and that is why she founded Nėsha Empire — to platform Black artists "properly" and make space for "intrinsically Black music." Nėsha Empire is making such unique creative projects, but the goal is to not be the only label of its kind. Turunesh wants to bring everyone with her, no matter their genre or connections, which is why she strategically chose different types of Black performers to join her on stage and deliver a "holistic experience."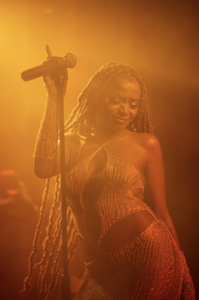 "I deserve to perform in an audience with a majority of Black people," Turunesh says firmly. I have to agree with her, the Black community in Vancouver and beyond deserve more space to create and be created for. May this event be one of many changes in Vancouver's music scene. I thoroughly enjoyed this event and I can't wait to see what's next for Turunesh and Nėsha Empire
Check out more of Ozioma's work!
Instagram: @chinasa_n
Portfolio: https://oziomanwabuikwu.contently.com/