This review is based on my experience at the 15th year of the Sled Island Music Festival, held on the traditional territory of the Blackfoot and the people of the Treaty 7 region in Southern Alberta, which includes the Siksika, the Piikuni, the Kainai, the Tsuut'ina and the Ĩyãħé Nakoda First Nations, including the Chiniki, Bearspaw and Wesley First Nations. Calgary is also home to Métis Nation of Alberta, Region III. 
Dicken's Pub in downtown Calgary is down a short flight of stairs, but it feels like I'm in a dungeon. A real dungeon, lined with cold stone and anticipation. The air is cool, the lights are dim and the room seems to expand each time I turn my head. The mushrooms I had taken that afternoon hadn't quite worn off yet, I noticed this as I scanned the room for the familiar face I had planned to meet that evening. .
Parisian Orgy were the first ones to take the stage on Saturday night. Their first album, Come Pretty Pump Sleep was released in 2019 and it's a bratty, menacing piece of art. The frazzled, surrealist melt of their synth-punk sound set a perfect platform for the twisted, bubblegum style of their title track. They had much encouragement from the crowd to keep playing long after they'd finished. "Jillian" is a haunting standout on their record – I've been playing it often.
Stucco (members of DRI HIEV, Slut Prophet, Gawker, Clench) was the churning post-punk interlude that gave way for most people to catch their breath. In an almost unbelievably out of place moment, they launched into the familiar opening riff of Blink-182's "First Date" and treated us to about half of it before pulling a hard ricky back to their pandemic-produced experimental disintegration.

Shearing Pinx are iconic and they played an incredibly solid, brash set. Frontperson NXC HXGHXS set the tone — their head draped in tulle, growling from the stage, "you are all so fucking lucky" to have been in attendance. To say that they've been influenced by Lydia Lunch would be a massive understatement, as the dissonant alchemy was visibly swirling around and within each member during their time onstage. I was not the only one whose body was magnetically pulled closer to the sound. I found myself standing directly in front of the speakers for the last half of their set and would have crawled inside if I could. The tangible gratitude from Shearing Pinx towards the pièce de resistance of the night was reverent.
Headliner Lydia Lunch, writes of sex and death, and working through your shit. Her life has been a blatant pursuit of perverse pleasure, with a dedication to destroy that which intends to oppress others. Her work spans decades, yet her manifesto has never wavered; confront apathy. Though more predominantly, the war is never over. Taking into account the decisions made in the last few weeks, last few months, last few years, it is crucial to be reminded of the tenacity and power that is held in our rage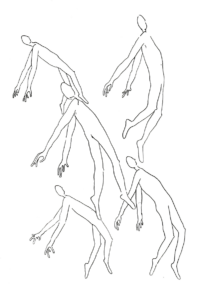 The sound started to swell as Lydia let her presence be known onstage. The attention of every single person in that room was cupped in the palm of her hands, and she absolutely knew that the spotlight was on her. She was there to be worshiped. Each word that came out of her lipsticked mouth, every snarl, every crass laugh, had all eyes locked on her traveling across the stage. She waved her hands as if she was casting a spell, the incantations landing on those who needed it most. I don't think anyone really knew what to prepare for. "All I expected was blunt force trauma in the best cathartic way possible, and she most definitely delivered" says NXC HXGHXS, who I spoke to after the set. "Her strength, her veracity, her integrity, her wisdom have all stuck with me as hard evidence of how to turn all that pain and rage outward through art, music and film… there are many ways to formulate an attack on patriarchy." 
Lydia Lunch and her band Retrovirus, played one of the longest sets I have ever heard. At the end of it, draped in layers of black, sweat dripping off of her body, she raised her middle fingers and left the stage.