Music Waste Fest. Day 1 w/ Shop Cat, girlsnails, Rainbows End, and future star
The much anticipated first night of Music Waste, the annual Vancouver indie music and culture festival, kicked off with gusto and finesse by Shop Cat at the Red Gate Arts Society. I felt instantly at home with this group, who felt like a family or real tight-knit group of friends. Their relaxed banter and graceful switching off and on vocals really set the tone for a relaxed and dynamic set. I've hardly seen any bands that feel this cohesive with that even of a distribution of power and spotlight, but Shop Cat broke the ice and got us up on our feet with nary a power struggle. Only good vibes and good tunes reminiscent of the playlists I blasted in my room as a teen.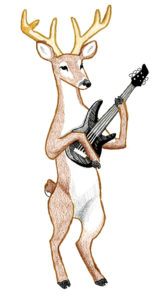 Next up was the enticingly named group girlsnails. Murmurs spread on whether we were in store for tales of female mollusks, or a trip to the spa… but regardless, they delivered in intrigue and amazing vibes. The dreamy rock group showcased their enchanting harmonies and upbeat brass section, and you couldn't help but admire the elusive 14 string that made its live show debut. Through their full sound, you could hear some impressive fingerpicking techniques creating a sort of bright chiming sound. The culprit of these cheery harmonics? A guitar adorned with delicate floral decals, pendants, and scarves draped across the neck. As a member of the audience, I instantly gained a lot of respect for the commitment this band has to building their visual and auditory brand. The juxtaposition of Shop Cat's indie rock, polished garage band feel and girlsnails' dreamy, floral tones kept the night interesting. 
Rainbow's End kept our energy up with some poignant bops and meaningful lyrics. Their range of songs was really impressive, and I felt that they lived up to their name and played through every hue of ROYGBIV. Leading with an incredibly catchy and somehow nostalgia drenched set, they got everyone on their feet and dancing. With music that felt at home in some local house party or beachside bar, dancing turned to swaying, following the band's shift in tone. Lighters came out and phones went on as Rainbow's End wound us down with some more bittersweet melodies and Vancouver pride, ushering in the final act: future star.
future star was an absolutely amazing choice for the closer. I did not know what to expect when I saw the lone keyboard and sequencer setup, but future star's choice of minimal accompaniment was a perfect blend with their singsongy vocals from the sky. I cherished every moment. The sweet and comically candid lyrics invoking movies, love, confusion, and karaoke, gave future star's sound a wholesome and relatable air. As they brought the night to a comforting close, soon one person was sitting, then two, then three until the venue was a sea of criss-crossed apple-sauced listeners attentively holding on to every word and harmony. A fond farewell with all the soothing worthy of a long and exciting Thursday night, and a graceful end to the beginning of the 2022 Music Waste festival. Just as future star had joked, we really were kindly "tucked into the proverbial bed," before being sent off to wherever enthusiastic wanderers go when the sun sets in Vancouver. — Pape Wikoff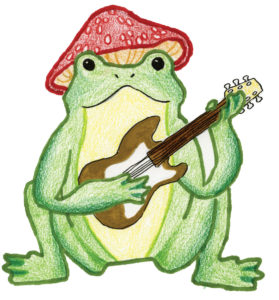 Music Waste Fest Day 3 w/ Teeth To Your Throat, Kill Michael, Jodie Jodie Roger, M01E, Lil_Babeeee_4EVA, Outback, and Reliquary V
Kicking off a night in an almost fully packed Red Gate, Teeth To Your Throat gifted us with one of the tightest, most flawless and absolutely ferocious performances possible, setting the course of the rest of Saturday night. 
Even though one may be traumatised after having maximum volume blasted into their ears and not remembering a single song, it is safe to say that no one is going to forget the experience of seeing the lead singer of the group, Ricky Castanedo Laredo, joining the crowd offstage and screaming their heart out while facing the band like a devoted fan instead of a frontperson: for the audience, we were just witnessing someone witnessing the performance. I wouldn't be surprised if in the near future, this form of presentation would be normalised and seen in most bands, Teeth To Your Throat would be influential in the best way.
Onstage the next is Kill Michael, they had driven 5 hours from Portland to arrive at Red Gate, Vancouver. Despite one of their members being unable to make it due to passport issues, they were able to still deliver such a killer set, which makes one tremble at the thought of what a full lineup would do.
Among the songs they played, the most memorable one to me was "I hate spit" from their album 60:40. The opening riff of the song was iconic enough to keep one's head spinning, which I think perfectly summarises the band's spirit: fun, witty and absolutely hard-hitting. 
However, please do not mistake Kill Michael as just another rock group with heavy fuzz pedals. The singer of the group Zoe Tricoche's stage rituals, as well as the group's congas will prove you wrong, and you must see it yourself!
Jodie Jodie Roger came onstage wearing a mask, they were unarmed, with only a microphone and a MacBook, by themselves. While some of the audience may look at them and express their concerns: "how will Jodie Jodie Roger be able to continue the momentum as the two guitar-wielding bands?" Well, Jodie Jodie Roger surely showed them how.
With an attitude and a mouth, Jodie Jodie Roger showed Red Gate that one doesn't need an instrument to move earth, as every human being was born with an instrument: a body. In my honest opinion: Jodie showed us that when you have a room of people, energy matters more than anything else.
Their song "A Flair for the Histrionics" had a hundred yelling "I WANNA HAVE THE BIGGEST DICK IN THE WORLD" along with Jodie and the insane moshpit captured on the phone camera of many during their song "Sex-Repulsed Obsessive Compulsive Disorder" are the best proof that Jodie Jodie Roger is onto something larger than life.
The fourth act to go onstage was M01E. Music Waste 2022 was their first ever public appearance. The end result was more like throwing a tantrum on stage instead of performing music, since perhaps the excitement was louder than the guitar.
Jerome, the co-frontperson of the group was wearing a safety-pinned purple UBC crewneck, with a red armband that spells "红卫兵" (a nod to "red guards" during the Chinese cultural revolution). While Kit, the other co-frontperson was wearing glamorous eye make-up while wielding a bass guitar that had the words "bloody mary was someone else's daughter" written in white paint . Both Jerome and Kit screamed and shouted a lot during the show, as they proclaim the health benefits and accessibility of screaming.  
 "Everyone should scream more", they stated as they pointed the mic towards the crowd: and so the crowd screamed on the count of three, a sound that was more beautiful than any other song they played in their 30-minute set.
 But maybe that's the point. — Kirc Cohen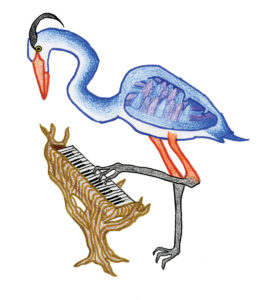 Music Waste Fest. Day 3 w/ Haleluya Hailu, Superbudget, Buddie, and Postmodern Connection
The wind carries threads and bits of conversation to me, everyone waiting in anticipation of the next band. There is room to breathe atop the parking lot of Kingsgate mall. It's an awkward, bright and open space at first and no one really knows what to do with their hands. To fix this, people start to wander off into the liquor store below to grab a cold drink before the next song. I'm offered a chair, in place of the spot I've adopted atop the ledge of the short wall. 
Haleluya Hailu is a colourful force of vitality as she saddles up to the stage. It's still quiet at this time, and as one of the first daytime Kingsgate shows, she immediately sets the tone for the rest of the bands to come. Along with her zappy R&B lyricism, she follows it up with crowd pleasers from Mother Mother and Peach Pit. She also celebrates the 20th anniversary of Avril Lavigne's Let Go album with a boppy cover of Complicated. Despite a rugby injury, her bassist pulls through with hard slapping rhythms. 
Superbudget
Everyone is making their way forward, leaning back, and leaning forward again. We're delighted with the cool smoothness from Superbudget. You're convinced they must breathe a different kind of air as everyone else there, as they enter a different world of west coast psych pop/shoegaze (probably filled with vaporwave visuals as well). Their songs sleepy and eye-widening, melancholic and droning while also containing an addictive beat that you can't turn away from. 
Buddie
At this point, late-comers have leaked through all sides; bikers, Saturday shoppers,and  pedestrians unwilling to move to their next pedestrian activity have all stopped to listen in beyond the short brick walls. As a power-pop crowd pleaser, they get the  crowd's heads bumping and feet tapping. The infectious cheer from the good rhythm of Buddie vibrates through the crowd — jumping and swaying to the plucking of their strings. I stretch my neck as far as it can go, waiting in anticipation of each new set. And one more shout out to another injured bandmate — keyboardist Anna sat down with her injured leg and provided lulls to accompany. 
Postmodern Connection is immediately smoky and raw, electric with each booming strum on the bass. Their pastel overalls were blobs of blue and pink, shaking with energy. Their crooning in the song "Little Things" references the softness and realisations of youth found in HYUKOH, one of their inspirations. With every sustained note, they drag you further into their created daydreams. — Jin Li