If there's one thing 3 Inches of Blood are used to by now, it's a good fight. From being accused of musical insincerity in their early days, to being treated like a red-headed stepchild by their former label, 3IOB have too often played the role of Sisyphus in their quest for metal domination.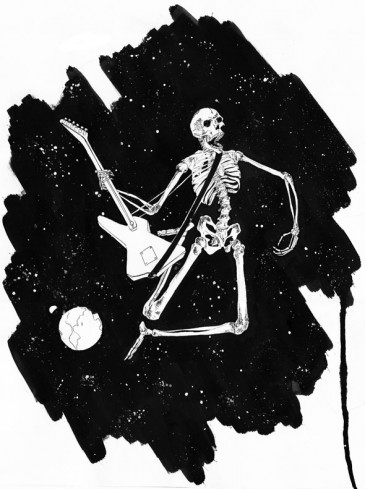 With their latest release Here Waits Thy Doom, their search for credibility and respect should come to an end. Displaying a maturity and breadth in sound hinted at in previous releases, Doom, their debut for record label Century Media, is a fist in the face of detractors. It's a statement that's been four albums in the making—a statement that vocalist Cam Pipes was excited to discuss with Discorder.
"It's all stuff that we've tried in earlier albums, like experimenting with keyboards. We've just expanded upon it a little," Pipes explained. Known for their trademark New-Wave-of-British-Heavy-Metal style gallop, opening track "Battles and Brotherhood" showcases 3IOB's talent for capturing the early '80s feel so dear to many metalheads' hearts. By the second track, "Rock in Hell," it's clear that 3IOB are further experimenting with earlier forays into '70s rock.
"Essentially all of the same people that wrote the last album [Fire Up the Blades] wrote this one. Our heads were maybe in a different space, but the songs come from the same people and influences," Pipes said.
The progression in sound that Doom exemplifies can be attributed to a few factors. Pipes describes the creative process for the album as, "a lot more varied and organic, whereas before, we'd sit down as a unit. This album was more about people writing on their own or in duos and bringing it back to everyone." And while having Joey Jordison (Slipknot) producing their last album is no discredit, Doom saw legendary producer Jack Endino (Nirvana, High on Fire) take the helm, a move that Pipes said helped the album's production to be "more about feel, about the soul of the songs, and less about laser-precision." And while Pipes said the writing of Blades was a long, drawn-out process, he said the band was incredibly focused during the writing of the new album. "Basically, we were just in writing mode. For about, two, three months, we practiced every day. Songs just seemed to come a lot quicker and flow a lot better in our heads."
Much like a woman scorned, hell hath no fury like a band shunned by its label. Previously on Roadrunner Records, 3IOB found themselves relegated to the cheap seats as their former label's office experienced severe personnel changes and developed an obvious indifference to furthering the band's career.
"We pretty much only knew our A&R guy at the end of it," Pipes lamented.
Pipes remains civil, but he was clearly stung by the experience. "I mean, I know it's a business, and everyone is trying to sell records, but it became clear that they felt we weren't the kind of band that sells records for them … We were just kind of forgotten."
When Roadrunner made it clear that they were not going to exercise the option on their latest album, Pipes stated that he "couldn't have been happier. When Century Media found out that we had been dropped—before a lot of people knew at all—they approached us with an enthusiasm and desire that we connected with and that we felt we deserved. They've made it clear that we're a priority to them."
Though 3IOB have gone through many lineup changes throughout the years—Pipes remains the only constant throughout the bands' four full-length albums and two EPs—the biggest change to the current lineup is the departure of other long-time standing member Jamie Hooper, who provided the death growls that achieved a vocal counterpart to Pipes' Rob Halford-esque screams. On the 2007 Ozzfest Tour, Hooper began experiencing vocal problems, and he has officially called it quits with the band (guitarist Justin Hagberg now handles the lower vocal duties). It's obvious in speaking with Pipes that Hooper's departure was difficult.
"In the two years that Jamie's been out, his voice hasn't improved to the point where he can play shows with us consistently. He finally said that rather than us wait for him to maybe get better, it was just best for us to move on without him and not be left in limbo," Pipes said.
Following the release of Doom, 3IOB are heading out on a fall tour with In Flames, Between the Buried and Me & the Faceless. Pipes is understandably enthusiastic about the tour.
"In Flames do pretty well for themselves, so it'll be great to put ourselves in front of a sizeable crowd that maybe know nothing about us and get them stoked on our new material," Pipes explained. But don't expect them to dig too far back into their catalogue. When asked about the gang vocals in "Preacher's Daughter" off Doom, and if that potentially signaled the return of gang-vocal 3IOB classic "Balls of Ice" to the set list, Pipes balked. "Yeah, I don't see that one coming back anytime soon. That song is from a period where a lot of people considered us more of a joke band. There's just too much of a stigma attached to that song. Maybe in the future, but not as of right now."
While Doom represents a leap forward for 3IOB, longtime fans can be assured that Hooper's influences and motivation remain the same. Those questioning his metal integrity can find him at many local shows wearing his densely-patched denim jacket ("European festivals are wicked for finding the obscure patches," Pipes exclaimed.), and those debating the seriousness of 3IOB's lyrical content should know that the frontman still plays weekly games of Dungeons & Dragons when he's in town. Pipes hasn't quite taken to "Wizard Sticks"* yet, but he merely said that's because he's "more of a whiskey guy these days." Denim, D&D and whiskey… it doesn't get much more metal than that.
Here Waits Thy Doom comes out Sept. 8 on Century Media, and 3 Inches Of Blood play the Commodore Ballroom Sept. 11 with Bison B.C. and the Golers.
*The Rules of Wizard Sticks
Wizard Sticks is a drinking game in which players or "wizards" create a wizard stick by duct taping cans of beer together after they have been consumed. Wizards are considered to be of a level equal to the number of cans in their staff. The first wizard to achieve each level is allowed to create a rule that must be followed by other players of the game such as "Instead of saying 'I am feeling drunk.' you must say 'I am feeling wise.'" There are many variations beyond these rules. A common variant involves boss fights where upon reaching a level that is a multiple of five, you must do a shot before being allowed to advance. ("It's time to fight Boss Captain Morgan.") Wizard Sticks can be incorporated into many other varieties of games with prizes of empty cans awarded to winners. Playing Wizard Sticks is not recommended as it will encourage you to imbibe more alcohol than is safe.