Warm Notice is an exciting new not-for-profit collective created to support women, non-binary, POC and otherwise marginalized BC musicians. The collective was founded by artist and community organizer Amanda Nicole, who brings nearly a decade's experience in artist and project management, and even features a former Discorder Editor-in-Chief among its ranks!
In 2019, Warm Notice has partnered with nightlife and independent music mainstay The Lido to present The Lido Music Residency. This program runs seasonally, with 4 residencies offered per year, and secures each recipient a paid one-month performance residency at the iconic Vancouver venue. Artists in residence are guaranteed 2-4 evenings of stage time, which can be booked within a single week or spaced across weekday evenings throughout the month, and are also offered the opportunity to use an additional day for hosting a workshop or artist talk.
Applications for the very first residency, Spring 2019, have now closed, with the artist in residency soon to be announced. But Warm Notice are actively seeking applicants for future residencies, and encourage artists of all different backgrounds, approaches, and experience levels to apply. We sat down with Amanda Nicole to find out more about Warm Notice, and to ask what interested musicians need to know when considering The Lido Music Residency.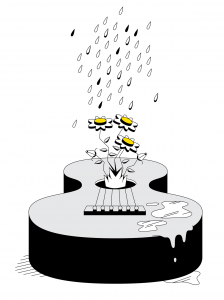 Q: Who makes up the collective? How did you come together?
A: The collective in its current form is me, Amanda Nicole, interdisciplinary artist and musician Casey Wei, and multidisciplinary artist and editor Brit Bachmann. The three of us started sharing ideas about a year ago, and Warm Notice took shape. For me it feels like it's formed in part as a response to feelings of isolation as women in music and a longing to speak freely, create and be heard amongst peers. We look forward to having many more artists, activists and community members join the collective along the way.
Q: Why the Lido?
A: The Lido was a really easy choice for us, I've worked there for four years and I took over the programming in January. Since day one The Lido has supported local music and artists, offering hundreds of free concerts and events over the years. It's a wonderful and safe space, there is a very serious zero tolerance for shitty, hurtful behaviour. The people who work there prioritize learning and adapt to what makes people feel safe and respected.
Q: We already know about the residency project at the Lido. Are there other projects in the works, and/or dreams and schemes for the future?
A: Our main focus is creating opportunities to showcase emerging musicians who have been marginalized in BC with the intent to further their career and/or export their music outside of British Columbia and Canada. Our first effort to do so is with the artist residencies. Earlier last year I started reading about and listening to talks linking the treatment of women to climate change and it blew my mind. I started reading about the brutalities women face when climate disaster strikes and it made starting up a new project seem pointless, unless we could weave in ways to shine a light on that. A big focus for us is finding ways to do that.
Q: How is Warm Notice funded?
A: We want to be totally transparent about where our money comes from and where it gets distributed. We think it's an opportunity to contribute something educational for artists to reference. Once we have any money we'll work towards creating a public document that is easy to read. The artist residencies currently are solely funded by generous donations from our peers.
Q: What do artists need to know if they're interested in applying to The Lido Music Residency?
A: We hope musicians of all different backgrounds, approaches, and experience feel comfortable applying, we especially want artists who are women, artists of colour or marginalized for any reason to feel comfortable to apply. Once an artist is selected for the season we'll meet with them to plan out their residency. Each residency includes live video documenting and recording , which will be given to the artist. Currently we offer  $400 per residency, which goes directly to the artist. We want this to be a useful opportunity during and following the residency. Our deadlines for the summer, fall and winter residencies are still rolling, so find us online and apply now!