Although it seems, retrospectively, both perfect and inevitable, Soleil O'wadi hadn't planned to make their drag debut last Canada Day. In fact, they'd left the city, and were intending to spend the long weekend volunteering at an overnight camp.
But after experiencing transphobia from a fellow volunteer, Soleil decided not to stay, and found themselves back in Vancouver putting in a same-day request to the host of Commercial Drag: "I had a horrible weekend. Can I perform?"
"And then I got ready in a couple of hours," Soleil tells me. "I went to Value Village to get something to wear; went to the dollar store to get my Canada flag, that I drenched in fake blood. And yeah, I debuted the same day that I decided to debut."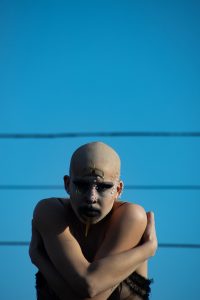 The politically charged, emotionally intense debut, performed to Highly Suspect's defiant "My Name Is Human," could not have been better choreographed to introduce the bold and powerful style of Bo Dyp: the drag name under which O'wadi performs. But then, they aren't really one for pre-planned choreography. Bringing a background in contemporary dance to their performance, Bo's approach to drag is less about rehearsed reveals and meticulously mapped-out flourishes than an in-the-moment, embodied expression of their raw connection with a song and an emotion.
The impact of this profoundly honest performance style can be felt in the responses which it garners: "I often have the experience of a quiet and still audience while I'm on stage," says Bo. "And a lot of people tell me about their experience of the quiet and still audience. It's always a cool thing to experience for me: to just have the attention, and to have the space to share what I want to share."
What Bo has to share goes well beyond what one may expect, or be prepared for, at a traditional drag show. In the 8 months they've been performing, they've hushed audiences across the city with their uncompromising refusal to shy away from complicated topics, and a visual style which references their Kwakwa̱ka̱'wakw heritage (Soleil is from the Dzawada̱'enux̱w nation, and bears the strikingly apt Kwak'wala name Kwa̱nxwalaogwa: "One Who Possesses Thunder").
But despite bringing attention, through their drag, to real-world injustices from ongoing colonial violence to sexual assault and ecological destruction, Bo is hesitant to describe their art as 'activist'. Reflecting on the label, they tell me "I wouldn't consider myself [activist], but I do have a life saturated in things that I have to care about in order to survive."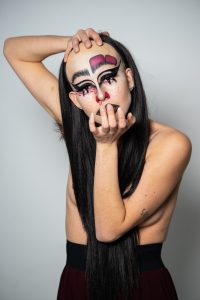 The name Bo Dyp is a double entendre referencing both the term 'body politics' and the late Kwakwa̱ka̱'wakw Chief and master carver Beau Dick, to whom Bo is loosely related and from whose style they draw for their mask-inspired drag looks. Indeed, part of what is so remarkable about Bo's drag is that it does so much: continuing Dick's powerful legacy of bringing to life and reinterpreting Kwakwa̱ka̱'wakw cultural heritage, while simultaneously offering a complex exploration of the body politics with which they have experience. Bo's drag is informed by their intersecting identities, which include being queer, AFAB, and non-binary; mixed-race, with Indigenous and white-settler ancestry; a survivor of sexual assault; and a person who experiences arthritis, depression, dysphoria, addiction, and ideation of body death.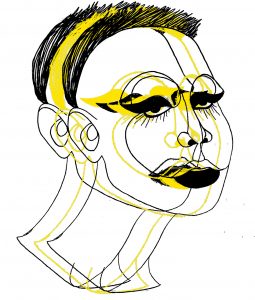 Unsurprisingly, Bo can find bringing these experiences to the stage exhausting: "Performing is emotionally laborious for me, because of the content I perform. But it's also releasing, and then to have the positive feedback that I do makes it even more rewarding. But the other side of that is people being like 'you're an asshole, you made me cry!' — saying these things that they don't need to say.
"And then touching me nonconsensually [sic] — like, here have a bunch of hugs; I'm gonna touch your arm; I'm gonna rub your neckpiece… People, I think, forget that performers are people. So I'm not just this shiny thing that is to be admired. If you appreciate my work: pay me. Thank me for my emotional labour, and give me some money."
Although the emotional tax of performance is exacerbated by these tendencies within drag audiences, Bo is drawn to the medium for its accessibility and the nature of the platform it provides. Having withdrawn from formal dance education as a consequence of their arthritis, Bo explains that "drag gives me space to dance, but to dance to my own ability, without pushing my body too hard, and without doing it for a very long amount of time."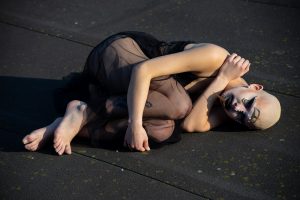 Drag is also a tool to further what they identify as the primary goal of their practice: drawing attention to Indigenous people, Indigenous art and Indigenous issues.
"My main thing is Indigenous visibility: I want people to know that we're still here, that we can engage with pop culture in a way that remains true to who we are… like, I'm me, and I'm Indigenous, and I'm doing this other thing that's still me."
Through drag, Bo is able to showcase the work of other Indigenous artists; a practice which extends from performing to Indigenous musicians (M'Girl, Frank Waln, Jeremy Dutcher, and Snotty Nose Rez Kids have all served as inspiration for Bo's drag numbers) to starting off-stage conversations. "My make-up is sometimes inspired by specific artists and specific looks, so just having that and being able to talk about that with people [is important]," says Bo, who has modelled previous looks on masks by Klatle-Bhi, as well as Beau Dick and carvers from their own family. "It's about getting all of us out there."
As Bo's star continues to rise in the Vancouver drag community, they've been bringing this mission and message to ever more prominent stages. After winning Commercial Drag's first ever "All Stars" event this January, they went on to compete in the high-profile Vancouver's Next Drag Superstar competition, where they made it all the way to the finale. (Those yet to experience Bo's drag can find these performances online, including the finale in which they lip sync to Lady Gaga's "Til it Happens to You" as an abused and violated Mother Earth — the silence is palpable even via Youtube.)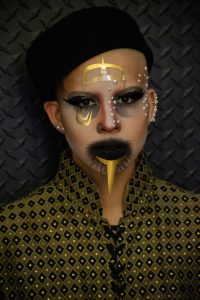 But alongside these competitive milestones, 2019 has also brought success of a more personal kind. Shortly after their VNDS success, Bo was officially adopted by established local drag sensation Gender Spice, marking the inauguration of the House of Spice.
For Bo, the adoption means a chance to collaborate with one of their drag idols: "They were actually zone of the first drag artists who I saw and was like: 'Wow. Amazing. I'm so impressed,'" recalls Bo. "It was my [very] first show that I went to, when I saw Gender Spice perform, and I thought: 'Woah. They are so cool. And someday they're gonna think I'm cool, too, because I'm gonna perform.' And then it happened!" Laughing, Bo explains they were drawn to the style of their now drag zather because "they are really good at genderfuckery. Just like — confusing the audience. And that's what you gotta do!"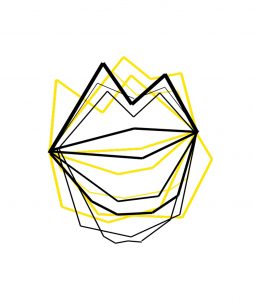 You can find and follow Soleil O'wadi (Bo Dyp) on Instagram. Their work also appears in the catalogue of the recent Hatch Gallery exhibition Masquerade: Exploring Fashioned Resistance. To see them live, watch out for their FernGully-themed Commercial Drag booking this month, where they'll perform both as Crysta and as Mother Earth.