As one of the Shindig 2015 / 16 semi-finalists, The Psychic Alliance can be aptly described by their off-kilter show featuring their lead singer being led on stage in a carrying chair with a face-painted choir at the front of the procession. The Shindig performance itself was bombastic, a pure rush of adrenaline, and pure punk euphoria. The Psychic Alliance is Shaun Lee on guitar and vocals; Marc Guenette on lead guitar; Dani Fournier on keys; Kyle Cheadle on bass; and Mareike Hanke on drums. I meet with three of band members, Marc, Dani and Shaun in Shaun's house in East Vancouver. The living room is decorated with knick knacks and paintings, and records line the room. A tall bottle of snake wine is the centrepiece of the coffee table between us. Shaun immediately takes control of the conversation and we quickly dive into the interview, discussing religion, curses and witches.
The Psychic Alliance formed in Calgary in 2010, and has had over 13 members since its inception. Unsurprisingly, the large number of past collaborators reflects the nature of the ever-changing styles and influences of the band. "But the band feels sort of anonymous anyway, that's kind of the appeal of it," remarks Shaun. The music is at the crux between the experimental and unconventional elements of psychedelic music, and the spry and unhinged nature of punk rock. It's music that can change from having a funky bassline and quirky lyrics to fast-paced drums and guitar-driven rhythms with existential undertones.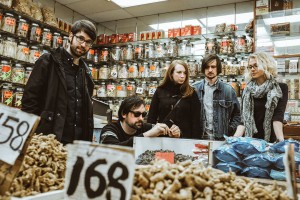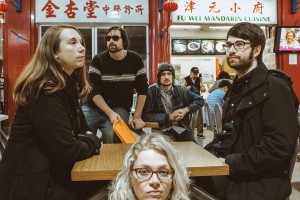 With their third studio album Evil Against Evil dropping on April 29, the process of finishing this particular album has been a hectic experience, to say the least. After having a bandmate leave during the recording process, the existing band scrapped their initial synth-heavy experimental album in favour of a "gnarly, dirty rock album."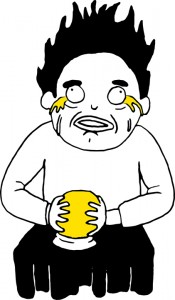 "At that point it was like, I never want to hear a synthesizer ever again," states Shaun in regards to the initial recordings. "We had about 48 hours to rewrite the whole album … It was definitely a lot more terrifying and nerve-wracking than our other [releases]." When I ask the band about what fueled their writing process, they reflect on two events – a past drummer going awol, and a curse placed on The Psychic Alliance by an old band member. Both instances have inspired the motifs of witchcraft and spirituality on the album.
When thinking back on the curse specifically, Shaun remarks, "She wrote this long rambling letter about the curse placed on our band, and sent us a little bible, a piece of a dreadlock, among other things… but I loved it, it was very evocative to me." He continues, "The band has always been about the imagination of the occult and the darker and more sinister side of things."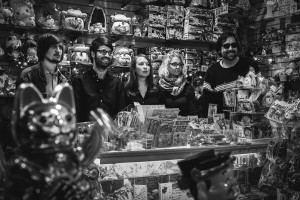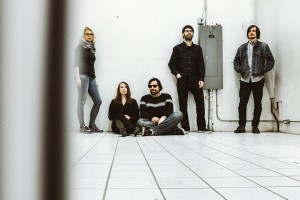 As a band notorious for their dramatic, show-stopping live performances, The Psychic Alliance takes pride in creating a unique space that separate themselves from other acts. "What we having going for our live shows is an ability to connect with audiences not everyone does, or not every band does. I think ritual is a big concept for the band, where people can achieve a catharsis," explains Shaun. "It's an event where you aren't just a casual observer, but that you're actually involved in a completely experiential process."
The band strives to make both art and music a much more involved and emotional experience; something akin to religion ritual by demonstrating an all-encompassing and engaging artistic practice during their live performances. By undertaking the daunting task of turning music into a sweeping art form, the band challenges their audience to see music in an entirely different, visceral way. "Art should be spiritual. Art is what church should be. What religion fails to give people, art can supply," states Shaun. "No matter how much you beat their spirit down, through art people still have the chance to connect with others who are full of things that make people feel alive."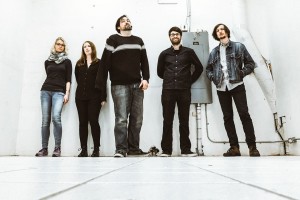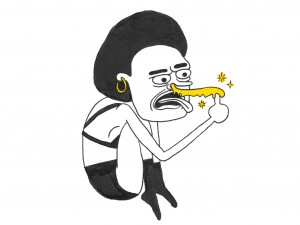 After moving to the coast from Calgary, it was evident that although Vancouver's music scene is more vast, both cities face the same challenge of fewer and fewer venues for live music. The Psychic Alliance has hosted house shows as a solution, which also creates a much more intimate and safer environment compared to the bar scene. Despite difficulties with venues in Vancouver, Shaun praises the creativity of younger, underground bands combatting these issues. "At some of these all ages shows I just think: how are there this many people here to see a band playing teenage yacht rock? It's mind-blowing," comments Shaun, "I don't understand what the bars aren't getting that 19 year-old kids [putting on shows from] the suburbs seem to be figuring out."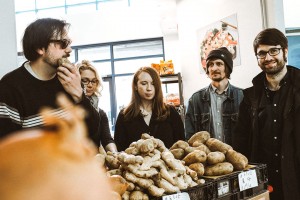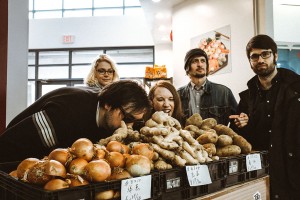 With a follow up album to Evil Against Evil already finished, The Psychic Alliance is planning on touring outside of Canada soon. The band concludes that this is with the exception of the United States, given that recent political and social climate of our Southern neighbours. "I'd like to represent what we're doing in Canada internationally, because I think there's a Canadian aesthetic in music that's valuable and cool, and it's not always what we choose to put out into the world as a nation," remarks Shaun.
The Psychic Alliance strives to celebrate the unusual and the underappreciated in contemporary music. As a band with so much personality and bravado, coupled with their spiritual approach towards musical experimentation, The Psychic Alliance truly sits somewhere between the divine and the absurd.
x
The Psychic Alliance will be playing an album release party for Evil Against Evil at the Fox Cabaret April 29.